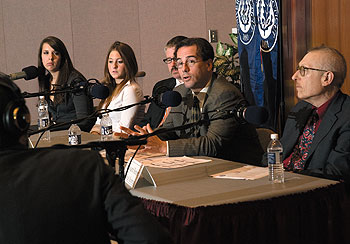 Panelists from left, Lauren Ellis, president of the College Democrats, Jennifer Miller, president of the College Republicans, and Professors Jeffrey Ladewig, Samuel Best, and Howard Reiter, all of political science, discuss the presidential race during a symposium at Konover Auditorium on Oct. 20. The panel discussion was recorded for John Dankosky's Where We Live radio show on Connecticut Public Radio. Photo by Frank Dahlmeyer
Photo Extra
Keith Fox '80 BUS, left, and Christopher Earley, dean of the School of Business, on the occasion of Earley's investiture as holder of the Auran J. Fox Chair on Oct. 17. Fox established the Chair in memory of his father. Photo by Jeremy Pollack
October 27, 2008 ¦ Volume 27, No. 10
Polls, panels examine race for president
Two weeks before Election Day, the University held a day-long event on the historic presidential race at both its Storrs and Stamford campuses on Oct. 20. Read more...
Nanotechnology 'clean room' opens at IMS
The University dramatically expanded its nanotechnology research capabilities this month, with the opening of a 1,000-square-foot 'clean room' that will allow scientists to fabricate cutting-edge devices for use in defense, industry, and medicine. Read more...
Human rights speaker brings discussion close to home
As the 60th anniversary of the Universal Declaration of Human Rights approaches, Americans should think about how to celebrate human rights in the United States, says Charlotte Bunch, founder and executive director of the Center for Women's Global Leadership at Rutgers University. Read more...
Combine spiritual values with political activism, conference presenter urges
Breath control and meditation can be part of the solution for a world in economic and political turmoil, according to spiritual leader Sri Sri Ravi Shankar. Read more...
More headlines...

Multimedia...

RSS Feed of the UConn Advance

News Links

UConn News | UConn Health Center News | UCONN Magazine Athletics News

How To...

Suggest a story idea: please send e-mail to advance@uconn.edu, with "Story Idea" in the subject line. Please give as much notice as possible, and at least two weeks. Requests will be considered based on relevance to a broad audience and the availability of resources.

Have an event listed in the Advance Calendar section: please enter it online at events.uconn.edu at least two weeks prior to the date of the event. Please note that the Advance Calendar contains only events occurring during the week beginning with the date of publication.

Request permission to re-use a story or photo: please send e-mail to advance@uconn.edu, with "Re-use Request" in the subject line.

For changes to the mailing list, please send e-mail to advance@uconn.edu, with "mailing list update" in the subject line. Please note that the Advance does not maintain separate mailing lists, but uses the databases maintained by the human resources departments at Storrs and at the Health Center. If you do not have access to e-mail, please send your request in writing to Advance, University Communications, 34 North Eagleville Road, Storrs, CT 06269-3144, or by fax to 860-486-2063, or call 860-486-3530.