In an era of high-tech science, a biology graduate student is using an advanced instrument and decidedly low-tech adaptations to yield new data and excite youngsters about a creature that antedates technology, the turtle.
Tobias Landberg, a fourth-year Ph.D. candidate in ecology and evolutionary biology, is collecting data from turtles that swim and surface along Connecticut's waterways. He spent this past summer working with National Geographic on a project using the "Crittercam," a $10,000 video camera that is attached to the back of snapping turtles to track their travels.
Although Landberg's doctoral research focuses on a different species – salamanders – he wrote his master's thesis on turtles at the University of Massachusetts before coming to UConn to study for his Ph.D. When National Geographic was looking for a turtle expert to work on the project, they turned to UConn and Landberg was a natural choice.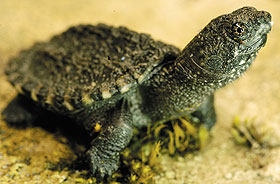 A hatchling snapping turtle (Chelydra serpentina). Photo by Tobias Landberg
Landberg has long been interested in how turtles breathe when moving. But the Crittercam can capture more – where they go, how long they stay, when and where they surface. And it does it all without human intervention, once the camera is attached.
"Sort of like old school naturalists," says Landberg, "we're observing individuals of the species to see what they do."
The project was launched during the summer on the Connecticut River by National Geographic, with the help of Landberg, Riverfront Recapture, and 10 teenagers from Hartford public schools, who were recruited by the "Our Piece of the Pie" organization for summer career-building work.
The high school students got hands-on field experience in biology and the excitement of scientific discovery. For their first specimen, they trapped the Godzilla of snapping turtles, a 39-pound creature that was missing its lower jaw.
How does a snapping turtle reach that size when it's missing a mandible? Landberg and the students set to work to find out. They attached the Crittercam with duct tape to a papier-mache-type rig that would hold the camera on the turtle's back for about two hours and then dissolve, sending the camera back to the surface for data collection.
"Nature provided the question, and we had the apparatus to answer it," Landberg says.
"Jawless," as they named the turtle, deployed around the bottom of Wethersfield Cove for two hours before being recaptured. The next day it took only 20 minutes for the paper rig to dissolve and the camera to bob up. The camera was sent to Washington, D.C., where National Geographic recovered the footage, which Landberg is still studying.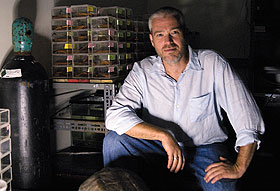 Tobias Landberg, a doctoral student in ecology and evolutionary biology. Photo by Frank Dahlmeyer
Meanwhile, another Crittercam was attached to a smaller, 24-pounder on Shenipsit Lake near Rockville, to provide another set of data.
Landberg says he became involved in the Crittercam project because of its outreach potential.
"This is probably my favorite part of the whole business – teaching people what science really is, solving problems," he says.
But it is also generating some very interesting data, he says.
"I'm really interested in what the future of this technology is going to allow us to do – outreach combined with long-term ecological data collection," he adds.
Landberg, who has been a Schwenk Mentoring Fellow in the College of Liberal Arts and Sciences and has mentored eight UConn undergraduates, is now supervising an independent study on the turtle data by another undergraduate.
Landberg dropped out of high school at the age of 17, and tried his hand at carpentry, painting, general contracting, and restoring old houses. He also traveled, and a trip to Costa Rica revived his early interest in biology. He earned his GED high school equivalency and later a master's degree at the University of Massachusetts before coming to UConn.
His hands-on construction skills have served him well. In earlier experiments in the lab, he created masks to learn more about how turtles breathe.
Turtles at rest can breathe by moving a shoulder girdle in and out of the shell and moving their limbs. But Landberg wanted to know how they breathe when they are in motion.
He attached the masks to the mouths of box turtles, using surgical adhesive that stuck to their tough skin without hurting them, then had them walk on a treadmill and measured their breathing.
He filmed their exercise routines and was surprised to learn that they took small breaths very rapidly and that their breathing had no relationship to what their feet were doing.
Landberg's Ph.D. research, funded by a National Science Foundation doctoral dissertation grant, is on the effects of the environment on salamander development. But he's still fascinated by turtles.
"The natural behavior of these animals in the wild is still a mystery," he says.