The Center for Students with Disabilities (CSD) and the University Program for College Students with Learning Disabilities (UPLD) have merged to form one office serving all students with disabilities. The office is located on the second floor of the Wilbur Cross Building.
"We've always enjoyed a very collaborative relationship with the Neag School of Education's learning disability program, and now we're physically under one roof," says Donna Korbel, director of CSD. The Center includes seven professional staff and six graduate assistants.
In the past, direct student services was a shared repsonsibility: students with documented learning disabilities received services from both programs, and all other students with disabilities were served by the CSD.
"It's a real advantage to have a one-stop shop for students and service providers," says Manjushri Banerjee, associate director of the Center.
The merge also creates benefits for all constituents, including faculty and staff, now that services are consolidated in one location. Also the opportuniteis for collaboration on research are significantly enhanced with faculty and staff from both programs meeting regularly.
Korbel says that students with disabilities are the largest growing minority population in higher education, noting that the Center works with more than 1,000 students at any given time.
Of these, the largest number have chronic health conditions, such as asthma and diabetes. Some students are undergoing chemotherapy; others are recovering from major illness or surgery.
"These kids are amazing in terms of trying to keep their lives as normal as possible, but may have some limitations imposed on them because of their conditions," says Korbel.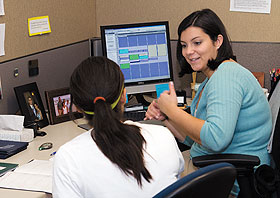 Graduate assistant Laura Rowley, right, a student in the special education master's program, tutors a student at the Center for Students with Disabilities in Wilbur Cross Building. Photo by Frank Dahlmeyer
"We can help out by providing accommodations that enable them to be in school."
Each student is looked at individually.
"Every student is different in terms of how we try and assist them in maximizing their chances for success," she says.
"We don't guarantee success. We guarantee access, but we also try to give them the tools they need to become successful."
After chronic disabilities, the next largest group seeking help is students with psychiatric disabilities. "Many of our students have significant mental health issues," Korbel says.
"We work with them to find what types of accommodations are appropriate for them in order to fully participate in campus life and help them find other resources on campus.
"This campus is amazingly responsive in terms of working with students with disabilities," Korbel says.
"We're fortunate to have had such tremendous institutional support. Many students with disabilities tell us that being at UConn is the most independent they've been in their entire lives."