UConn student leaders took a page from history on Oct. 3 when they met with Margot Morrell, author of Shackleton's Way: Leadership Lessons from the Great Antarctic Explorer.
Morrell met with current UConn student leaders to reflect on lessons from Sir Ernest Shackleton's story of survival and extraordinary leadership in the face of adversity.
The day before, she delivered the 2008 Martel Lecture about Shackleton, the British explorer who was stranded in Antarctica in 1914 when his ship was frozen in.
Shackleton led his entire crew of 27 to safety, despite numerous pitfalls and harsh conditions. The group had no communication with the outside world for two years.
"I wrote the book because I was just so interested in and inspired by Shackleton's story," Morrell told the student leaders. "It can be seen as a metaphor for adversity and any situation where true leadership is key. Everyone has an Antarctic. If these men can survive, against all the odds and in such dire conditions, then what could there possibly be that we cannot accomplish?"
The biennial Martel Lecture in Leadership and Public Opinion, established in the College of Liberal Arts and Sciences by communications adviser Myles Martel, CLAS '65, provides an opportunity for students, faculty, and community leaders to better understand the relationship between communication and leadership.
This year, freshmen in First Year Experience classes and upperclassmen in the Leadership Legacy program read Morrell's book, attended the lecture, and met with her afterward in discussion roundtables.
The students were especially interested in Shackleton's use of optimism to keep his crew together, even in the most hopeless of situations.
"Shackleton really worked to train his mind and remain optimistic," Morrell said. "He was insistent on maintaining a positive attitude because it truly was the margin between living or dying. It wasn't always an easy task, but it was a 'muscular optimism' that he constantly reinforced. Once he set that tone, his men followed."
Linda Drozdowicz, CLAS '10, said, "The mind-body connection is something I think we don't always give enough weight to. The things these men accomplished and the conditions they endured were really remarkable. It is so important to have a happy and healthy team. By keeping the mind in a sound place and taking care of that part, you ultimately create a more productive and sound group."
Drozdowicz is a molecular and cell biology major and Leadership Legacy student.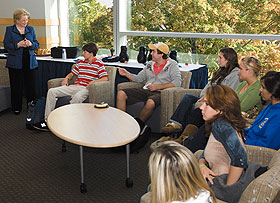 Margot Morrell, Shackleton's biographer, speaks with Leadership Legacy and FYE students. Photo by Annie Peterson CLAS '09
Students were curious about how Shackleton's lessons manifested themselves in Morrell's own life.
She told them how her knowledge about Shackleton guided her own experiences with cancer.
"I woke up alone in a recovery room after what was supposed to be a routine surgery and I realized that I had cancer," she said.
"And let me tell you, the first thing you do is cry. But after that, as I lay there, I began to think about Shackleton and how he must have felt on South Georgia Island looking up at a mountain range and knowing that he and his men had to keep going and cross those mountains and go back for the others.
"Shackleton said that 'optimism is true moral courage,' and that is something that has really rung true in my life," she added.
The optimism that characterized Shackleton's leadership style resonated with the students.
"I was really interested in the positivity aspect presented by Shackleton's leadership," said Juan Carmona, CANR '10, a Leadership Legacy student and community assistant for the Leadership Learning Community in the Northwest residence complex.
"Often you are told that to be in a leadership position you need to establish yourself as this kind of separate authority figure, and it was interesting to see how you can do that in a positive way while still demonstrating that you are in control."
Richard Wolak, who teaches an FYE course on the book Shackleton's Way, said, "This was a great opportunity to spur more dialogue and discussion for our class." Wolak has himself made many research trips to the Antarctic.
"First-year students are sometimes reticent to express themselves, but an experience like this really lends itself to a greater interest and perspective on the topic," he said. "It sparks an interest and brings the material to life."