Michael Crouch, an administrator with extensive experience in non-profit grants management, has been appointed executive director of the Office for Sponsored Programs and assistant vice provost for research. He joined the University June 26.
Crouch worked at the University of Pittsburgh for nearly 15 years in a similar role, and also at Northwestern University.
He has also managed the grants portfolio for a hospital consortium, the MedStar Research Institute, and worked as an independent consultant to non-profit organizations.
Crouch replaces Carol Welt, who retired last year. He was selected after a national search, conducted by a committee chaired by Debra Kendall, associate dean of the College of Liberal Arts and Sciences.
Gregory Anderson, vice provost for research and graduate education and dean of the Graduate School, says, "The search committee and I were impressed by the depth and breadth of Dr. Crouch's experience and professional connections and his commitment to research. He is dedicated to helping faculty manage their grants and assisting the University in most effectively meeting its compliance demands. He also has impressive national connections with professional agencies and federal organizations."
The Office for Sponsored Programs supports sponsored research activities at the Storrs-based programs. It is the central point of coordination for such projects, working with faculty and staff writing grants and with the University's finance and accounting offices.
It is the University's authorized representative for grants, contracts, and other agreements from government agencies, private industry, and non-profit foundations.
UConn is currently seeking to enhance its research profile. The Academic Plan, which is now being finalized, includes the goals of developing a stronger extramural funding portfolio and expanding the infrastructure that supports research.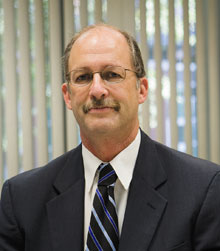 Michael Crouch, executive director of the Office for Sponsored Programs and assistant vice provost for research.
Photo by Sean Flynn
"I look forward to advancing the research interests of the University," Crouch says, "working on enhancements and refinements of service operations, and doing everything possible to promote the flow of communication pertaining to those activities, as we initiate and continue dialogue with faculty, staff, senior administrators, and other interested stakeholders across campus.
"At the more strategic level," he adds, "I also look forward to having a voice in promoting the research mission, engaging in discussions about infrastructure, future directions, resources and resourcing, so we can address issues of capacity and capacity-building for research."
Crouch has been an active member of both the National Council of University Research Administrators and the Council on Government Relations.
He has published articles on conflict of interest in a research university and academic research infrastructure, and serves as a member of the editorial review board of the Research Management Review and on the manuscript editors board for the Journal of Research Administration.
Crouch earned a bachelor's degree in biology at Kalamazoo College, an MBA at the University of Detroit, and an Ed.D. from the University of Pittsburgh.