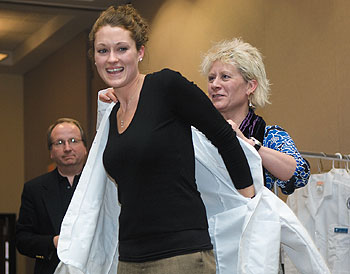 Third-year pharmacy student Allison Paquin accepts her white coat from Diane Burgess, professor of pharmaceutical sciences, during the School of Pharmacy's white coat ceremony. Philip Hritcko, assistant clinical professor of pharmacy practice, looks on.
Photo by Daniel Buttrey
News Links
February 4 , 2008 ¦ Volume 26, No. 18
Pharmacy students encouraged to be professional at all times
Nearly 100 future pharmacists last week donned for the first time the white coats symbolic of the health care professions, and solemnly swore to pursue the highest professional standards in their career. Read more...
Education students can now earn dual degrees
The Neag School of Education has introduced a new dual degree program, in collaboration with the College of Liberal Arts and Sciences, that gives students an opportunity to earn a teaching degree and, simultaneously, a degree in a specific discipline. Read more...
Speakers, exhibit reflect on Japanese American experience of internment
On Feb. 19, the University's 2008 Day of Remembrance will feature two speakers: Somdatta Mandal and Delphine Hirasuna. Read more...
State grant to boost Health Center's newborn intensive care program
The UConn Health Center will use $1.5 million from the state's Hospital Hardship Fund to make capital investments in the Newborn Intensive Care Nurseries at John Dempsey Hospital. Read more...