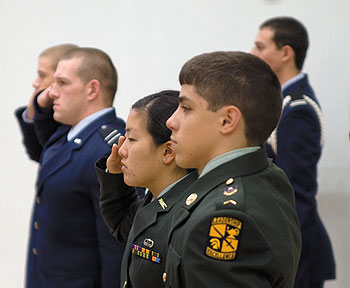 Cadets salute during the playing of Taps at a Veterans' Day celebration in the Student Union Ballroom November 8.
Photo by Frank Dahlmeyer
November 13, 2007 ¦ Volume 26, No. 12
Town leaders, researchers discuss local, global environment
The degradation of the environment is a human rights issue, according to Richard Hiskes, director of the University's minor in human rights, whose writings lean heavily toward the environment. He spoke during a conference Nov. 1 on climate change and strategies for life in a changing world. Read more...
Remote sensing expert receives national award for teaching
Daniel Civco, a professor in the Department of Natural Resources Management and Engineering, has received a National Award for Excellence in College and University Teaching in the Food and Agricultural Sciences. Read more...
Sirens to be tested November 20
The Alert Notification System sirens installed on the Storrs and Depot campuses will be tested on Tuesday, Nov. 20 between 10 a.m. and 2 p.m. Read more...
Charitable campaign reaches midway point
With the 2007 State Employees' Campaign for Charitable Giving past its mid-point, contributions at the Storrs campus are more than half way to this year's goal of $135,000. Read more...