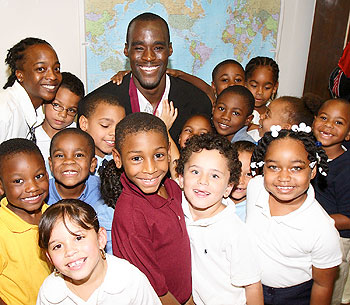 Former men's basketball player Emeka Okafor, with children at the Clark Elementary School in Hartford, after announcing his $250,000 gift to the Husky Sport program. In the back row, at left, is Lashika James, a paraprofessional at the school. Husky Sport, developed by kinesiology professor Jennifer Bruening, uses UConn students as mentors in nutrition and life skills, and encourages children to take part in sports and physical activities.
Photo by Peter Morenus
October 1, 2007 ¦ Volume 26, No. 6
Publication Notice: The next issue of The Advance will be published on Tuesday, October 9 owing to the Columbus Day holiday.
Okafor makes $250,000 gift to support program for inner city kids
Emeka Okafor, the 2003-04 National Player of the Year for the NCAA champion University of Connecticut basketball team, announced Sept. 27 that he will contribute $250,000 to the Neag School of Education to support the Husky Sport Program in Hartford. Read more...
CHIP named first University Research Center
On Sept. 25, the Board of Trustees named the Center for Health, Intervention and Prevention (CHIP) UConn's first University Research Center. Read more...
Sociologist's book to become movie
In the dense forests of Lithuania, filming began this month on a major motion picture based on a book by Nechama Tec, professor emerita of sociology at the Stamford campus. Read more...
In his own words: President Hogan discusses his new job
On Sept. 17, Michael J. Hogan became UConn's 14th president. After just over a week on the job, he spoke about his early impressions and his aspirations for the University with Advance editor Elizabeth Omara-Otunnu. Read more...