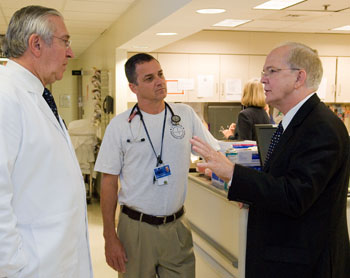 University President Michael J. Hogan, right, speaks with Dr. Peter Deckers, right, executive vice president for health affairs, and Dr. Robert Fuller, director of the Emergency Department, during a tour of the John Dempsey Hospital.
Portrait by Peter Morenus
September 24, 2007 ¦ Volume 26, No. 5
Alternative energy research receives state, industry funding
Three leading state energy companies have contributed a total of more than $2 million for a new alternative energy research initiative to be based at UConn. Read more...
Research equipment grant competition announced
A grant competition of $2 million for the purchase of research equipment was announced recently by Provost Peter J. Nicholls. Read more...
Women's studies has new director
As a child growing up in India, Manisha Desai was destined to pursue a career in medicine. "I decided that people were more interesting than microbes," says Desai, who joined the UConn faculty this semester as director of women's studies. Read more...
Grade changes now being made online
A new online system for processing changes in students' grades reduces the amount of paperwork and eliminates the requirement for multiple signatures. Read more...