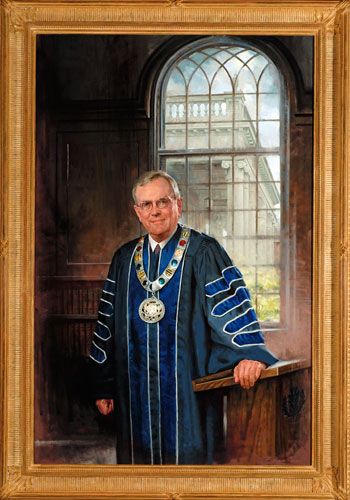 A portrait of President Philip E. Austin now hangs in the North Reading Room of Wilbur Cross.
Portrait by John Howard Sanden
September 17, 2007 ¦ Volume 26, No. 4
UConn 2000 audit finds accounting changes effective
An independent audit of $900 million in UConn 2000 expenditures from 2003 to 2006 documents that structural and systemic processes and procedures implemented by the University in 2005 were highly effective. Read more...
Feasibility of water recycling being studied
UConn officials are beginning the process of analyzing and, if feasible, building a microfiltration plant that could help reduce the University's demand for potable water by 300,000 to 500,000 gallons of water a day. Read more...
University's new football facilities earn silver rating for environmental measures
The Burton Family Football Complex and Mark R. Shenkman Training Center have been named the first LEED-certified building at the University and the first athletic complex in the nation to earn the "green building" status. Read more...
More than $59 million raised last year to support University
The University of Connecticut Foundation Inc. received more than $59 million in philanthropic support during fiscal year 2007 to benefit the University's faculty, students, and programs. Read more...