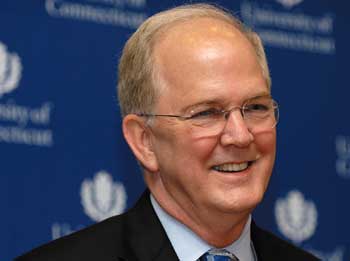 Michael J. Hogan speaks at a press conference at the Rome Ballroom August 1, after being named the 14th president of the University of Connecticut.
Photo by Peter Morenus
August 27 , 2007 ¦ Volume 26, No. 1
Iowa provost appointed new UConn president
Michael J. Hogan has been appointed the 14th president of the University of Connecticut. Hogan, 63, joins UConn from the University of Iowa, where he has been executive vice president and provost since 2004. Read more...
Emergency communications plan in place for University
UConn wants your cell phone number, but it's not for a social call. The numbers are being collected as part of a program for emergency communications developed during the summer and put into place this fall.

Read more...
UConn joins ranks of top 25 public colleges
UConn is among the top 25 public universities in the nation, jumping three places in the U.S. News & World Report rankings issued last week. For the ninth year in a row, UConn is also the top public university in New England. Read more...
Water conservation measures announced
The University has issued a water conservation alert asking students, faculty, and staff, as well as municipal, commercial, and residential water users, to voluntarily limit water use. Read more...