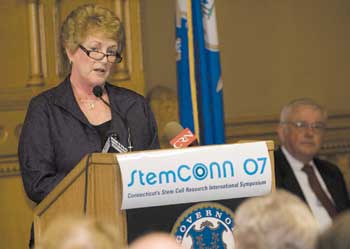 Gov. M. Jodi Rell formally announces the awarding of $20 million in state funds to support stem cell research projects during StemCONN07, a two-day international conference at the state capitol. Seated at right is Dr. Robert Galvin, public health commissioner. UConn was awarded 15 of the 21 state grants, totaling nearly $12 million. The grants will support 23 investigators at both the Storrs and Farmington campuses.
Photo by Peter Morenus
April 2 , 2007 ¦ Volume 25, No. 26
Team creates precision device for use in stem cell research
During an international conference on stem cell research in Hartford last week, mechanical engineering professor Nejat Olgac and a team of UConn researchers presented a significant engineering breakthrough in laboratory equipment that has the potential to sharply accelerate the pace of stem cell research. Read more...
Stem cell researchers study reprogrammed adult cells
A newly published study by UConn researchers confirms the potential of reprogramming cells by cell fusion. Read more...
Confidentiality of individual student financial data protected
The attorney general has resolved a dispute between the University and other colleges in the state and the Department of Higher Education (DHE) about supplying personal financial information to the DHE. Read more...
Student selected for internship in The Hague
Julie Friedlander, a senior majoring in political science with a minor in human rights, has been selected to receive the first Richard Goldstone Internship at the International Criminal Tribunal for the former Yugoslavia. Read more...