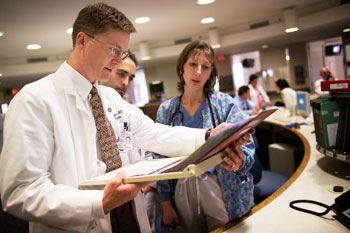 Dr. Kevin Dieckhaus, an assistant professor of infectious diseases, discusses a patient's care with colleagues at the John Dempsey Hospital.
Photo by Paul Horton
March 19 , 2007 ¦ Volume 25, No. 24
Legislative committee requests hospital study
The General Assembly's Higher Education Committee last week offered an alternative to the Health Center's proposal to replace the John Dempsey Hospital. Read more...
Health Center ranked among top 100 hospitals
The Health Center was named one of the nation's top 100 hospitals, according to the Solucient 100 Top Hospitals: National Benchmarks for Success study for 2006. Read more...
Environmental standards to be followed on all major buildings
The Board of Trustees last week approved a requirement that all buildings costing more than $5 million must be planned, designed, constructed, renovated, and maintained according to sustainable standards and be energy and water efficient. Read more...
Director hired for new student services job
James Hintz, assistant director of campus life for off-campus and community services at Ohio University, has been named director of UConn's new Office for Off-Campus Student Services. Read more...