University President Philip E. Austin last Wednesday thanked members of the state legislature's Appropriations Committee for their "farsighted and often courageous support" for UConn.
He then urged them to show continued vision by meeting the University's request for additional funding to support the addition of more faculty for Storrs-based programs and to close the "academic gap" at the Health Center in the 2007-09 biennium.
"At a time when Connecticut faces no greater challenge than the out-migration of far too many young adults, UConn plays a vital role in stemming the tide," Austin said.
"Our professors, both those now 'eminent' and those on their way to that classification, contribute mightily to meeting every important state need, from education to nursing to pharmacy to business. And, above all, they fulfill a great University's paramount mission: providing true excellence in education.
"Now is the time to build on a record of progress, and we hope for your support and leadership in that effort," he added.
Specifically, the University is seeking funding to add 175 new faculty during the next five years to accommodate the University's increased enrollment, Austin said.
Without the new faculty, 35 of whom would be added in each year of the biennium, students will find it increasingly difficult to enroll in the classes they need to graduate on time, and the student/faculty ratio will continue to increase from its current level of 17:1. In 1995, when enrollment at UConn began to spike, the ratio was 14:1.
The addition of 70 faculty during the next two years, he said, "will address student needs and, not incidentally, respond to concerns voiced by external observers including, recently, the site visit team of our regional accrediting body."
Provost Peter J. Nicholls echoed Austin's comments when he spoke.
"The bottom line is that student numbers have increased four times as much as faculty numbers in the last decade," he said.
"The University has been hard pressed to meet basic instructional needs, even though with internal reallocations we managed to create 51 new faculty positions last year and a further 13 new faculty positions this year."
Just as dire, Austin and Dr. Peter Deckers, executive vice president for health affairs, told the committee, is the state of the UConn Health Center.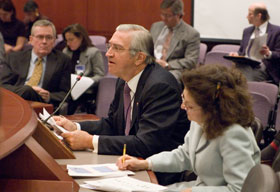 Dr. Peter Deckers, center, executive vice president for health affairs, testifies during the Appropriations Committee hearing. To the left is Pres. Philip E. Austin, and to the right is Lorraine Aronson, vice president and chief financial officer.
Photo by Peter Morenus
The Health Center is facing a deficit of nearly $13.6 million in the year-to-date.
For years, Austin and Deckers explained, patient revenues from the John Dempsey Hospital have been subsidizing the medical and dental schools, but the hospital can no longer continue the practice, leaving an "academic gap."
That gap will be nearly $13 million in fiscal year 2008 and more than $21 million in fiscal year 2009, unless the legislature can improve on the appropriation recommended by Gov. M. Jodi Rell earlier this month.
Further, Austin told the committee, costs at the medical and dental schools have been increasing at about 5 percent per year, while the state appropriation has increased only 1 percent in total from 2002 to 2006.
The state appropriation supports only the academic enterprise: there are no state operating funds for the hospital. Nevertheless, the hospital pays state fringe benefit rates and underwrites certain unprofitable services because of its public status.
"We cannot continue down that road, because the hospital's revenues can no longer grow at the same pace as in recent years. The facility cannot accommodate much more in the way of patient volumes because it has run out of space. It is also experiencing financial problems as a result of low reimbursement rates, utility costs, and the need for additional malpractice reserves," he said.
"Connecticut needs excellent doctors, dentists, and other health care professionals, and preparing these individuals for careers of service is a key part of our mission," Austin continued.
"We need your support if we are to continue to fulfill that vital role at a level of exceptional quality."
Austin also asked the committee to reinstate the $4 million needed to continue the Eminent Faculty Program and the Center for Entrepreneurship, two programs that were funded by the legislature in 2006 but were cut by the governor in her recommended budget.
He said the programs will bring faculty to Connecticut whose research ties directly to programs – such as fuel cells – that can help enhance and diversify the state's economy.