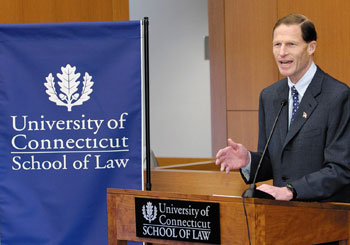 State Attorney-General Richard Blumenthal was the keynote speaker at a conference on "The High Cost of Lending and Federal Preemption of State Regulation." The conference took place at the School of Law on Nov. 17.
Photo by Spencer Sloan
December 4 , 2006 ¦ Volume 25, No. 14

Survey finds students eager to take summer classes
A high percentage of UConn undergraduates are interested in taking summer classes to enhance their academic careers. In a recent online survey, almost three-quarters of the respondents (5,100 out of nearly 7,000) expressed an interest in summer classes. Read more...
Health Center launches broad mental health initiative for kids
The Health Center is embarking on an ambitious initiative to bolster services to children and adolescents with mental health problems. It has established a new Division of Child and Adolescent Psychiatry, expanded its clinical services for youngsters and their families, and established a new residency program to train medical students in the field. Read more...
UConn partners with Singapore in student exchange program
UConn senior Devika Dhandapani is doing more than just her class work this fall. The physiology and neurobiology major is learning first-hand about the people and culture of Southeast Asia. Dhania Nair, a sophomore from the National University of Singapore, is taking classes at UConn this semester and adjusting to life in the U.S. Read more...
'Stuff the Bus' charity drive seeks items for troops' families
A "Stuff the Bus" collection for Operation E.L.F. charity drive to help families of deployed troops will take place during the week of Dec. 4. "When the troops are activated, their civilian jobs are put on hold, and in some cases, they are lost," says Janet Freniere, an administrator at UConn's transportation services department, which is hosting the event. Read more...
More headlines...

Of Note...

Volunteers needed for Midnight Breakfast

Faculty, staff, and members of the community are invited to take part in a Midnight Breakfast for students that will take place in the Student Union on Dec. 10-11.

The breakfast, which begins at 10:30 p.m. on Sunday, Dec. 10, and ends at 12:30 a.m. the next morning, provides food, live entertainment, and conversation for students studying for final exams.

The event, which has become an end-of-semester tradition at UConn, attracts several thousand students and hundreds of volunteers, and is one of the largest community-building events on campus.

Volunteers are asked to arrive at 10 p.m. in Student Union Room 303. To volunteer, call 486-3423 or send e-mail to Joshua.Brandfon@uconn.edu by Friday, Dec. 1.

RSS Feed of the UConn Advance