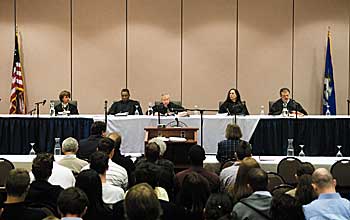 The Connecticut Supreme Court sits in session in the Rome Commons Ballroom on Oct. 17, as part of an ongoing initiative to educate the public about the role of the appellate court system. The court heard two cases, one criminal, the other civil. Shown from left are Justices Christine Vertefeuille, Flemming Norcott Jr., David Borden, Joette Katz, and Peter Zarella.
Photo by Peter Morenus
October 23, 2006 ¦ Volume 25, No. 9

Endowed chairs named at Health Center
Drs. Andrew Winokur and Daniel Connor in the psychiatry department and Audrey Chapman in the Department of Community Medicine and Health Care have been appointed to new endowed chairs at the Health Center. Read more...
Faculty encouraged to fill out surveys for national rankings of doctoral programs
The National Research Council's 10-year review of doctoral programs is underway, and faculty members are being called upon to participate. The rankings, which will be released next fall, will be determined for the first time on a set of criteria designed to delineate program quality. Read more...
UConn ranked among top MBA programs
The UConn School of Business is included in BusinessWeek's bi-annual rankings of the top MBA programs in the nation. This is the third consecutive time UConn has appeared in these rankings, joining a group of the top business schools in the country.Read more...
Input sought for reaccreditation
The University is preparing for its 10-year reaccreditation by the New England Association of Schools and College Commission on Institutions of Higher Education. Comments from the University community are now being sought on the reaccreditation self-study, which has been prepared as part of the reaccreditation process. Read more...
More headlines...