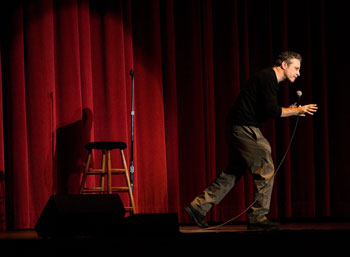 Television personality Jon Stewart, host of the satirical Daily Show, on stage at the Jorgensen Center for the Performing Arts during Family Weekend. Stewart's two sold-out shows were part of the University's 125th Anniversary celebrations.
Photo by Peter Morenus
October 16, 2006 ¦ Volume 25, No. 8

Outreach awards presented to faculty, staff
Awards for excellence in outreach and public engagement were given to faculty, staff, and students at a ceremony on Thursday at the Nathan Hale Inn. The event marked the first time the awards were presented. Read more...
Writing Center taking on new tasks
Thomas Deans and Kathleen Tonry are both scholars in English, so when they took over the leadership of UConn's Writing Center in September 2005, they faced a problem: How could they help anthropology students write like anthropologists, or engineering students like engineers? Read more...
Chemistry symposium October 18
Chemists gathering this week for the 2006 Randolph T. Major Symposium will consider whether evolution plays a role in one of the basic activities of some protein molecules. A renowned expert on electron transfer in proteins, P. Leslie Dutton, will deliver three talks during the three-day event. Read more...
State Supreme Court to hold session on campus
The Connecticut Supreme Court will travel to Storrs on Tuesday, Oct. 17, as part of its annual "Supreme Court on Tour" program. The justices will hear two cases, one criminal and one civil, in Rome Ballroom. Read more...
More headlines...