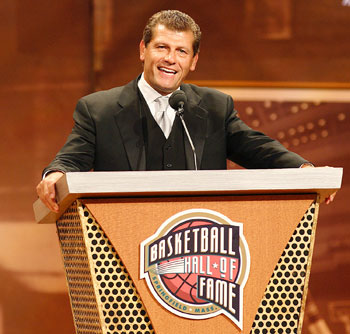 Geno Auriemma, head coach of women's basketball, gives a speech during his induction ceremony at the Basketball Hall of Fame Sept. 8.
Photo by Stephen Slade
September 18 , 2006 ¦ Volume 25, No. 4

Honors Program introduces new gen ed courses
Olivier Morand has studied and taught economics for much of the past two decades, but he also has a longstanding interest in the environment. So when University officials last year issued a call for faculty to create interdisciplinary general education courses for honors students - using nature as its theme - he leaped at the opportunity.
Software company outgrowth of educational research
Two UConn educators have developed a web-based software and database company that helps teachers keep their students engaged in learning. The company, Renzulli Learning, which was founded a year ago, offers a website for elementary and high school students that matches their individual interests and learning styles with online resources.
ESPN shows faith in Big East with six-year football, basketball package
The Big East and ESPN have reached agreement on a long-term television package that should satisfy even the hardest core Husky fans. The agreement will run through the 2013 regular season in football, and the entire 2013 season in men's and women's basketball.
Four undergraduates studying overseas as winners of Fulbright competiton
Four UConn graduates are currently overseas on prestigious Fulbright scholarships, working, conducting research, and serving as cross-cultural ambassadors for the United States.
More headlines...