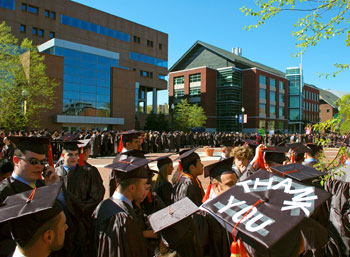 Students line up on Fairfield Way before the morning Undergraduate Commencement ceremony May 7. Edward Saki, with "Thank You" emblazoned on his mortarboard, waits in line with fellow engineering majors.
Photo by Peter Morenus
May 15, 2006 ¦ Volume 24, No. 31
PUBLICATION NOTICE: The next issue of the Advance will be published on May 30. Two summer issues will be published, one each in June and July. Weekly publication resumes at the start of the new academic year.

Graduates responsible to build better world, speakers say
Bachelor's degrees were presented to 4,380 students during ceremonies that also included the conferral of honorary Doctor of Humane Letters degrees to best-selling author Barbara Ehrenreich and business executives and philanthropists David and Rhoda Chase, and an honorary Doctor of Laws degree to U.S. Rep. Rosa L. DeLauro of New Haven.
Final budget package includes funds for two new programs
State legislators on May 1 approved a budget that added more than $5 million to the 2006-07 appropriation for UConn's Storrs-based programs and the Health Center above the amounts appropriated last year as part of the state's biennial budget.
Gift from MassMutual to help Hartford students attend UConn
Sixty Hartford high school graduates who might not otherwise have had the chance to attend a selective four-year university will now be able to attend UConn thanks to a partnership between the Hartford Public Schools, the University, and the MassMutual Foundation for Hartford Inc.
Former dean of Medical School dies at 89
Dr. John W. Patterson, the UConn Health Center's first executive director and second dean of the School of Medicine, died May 9. He was 89. Patterson was one of two planning associates for UConn's new medical school in 1963.
More headlines...