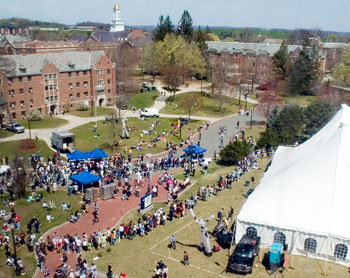 A picnic on April 21 celebrating the 125th anniversary of the founding of the University drew more than 10,000 people.
Photo by Jordan Bender
May 1 , 2006 ¦ Volume 24, No. 30
PUBLICATION NOTICE: This issue of the Advance is the last of the semester. Summer issues will be published on May 15 and May 30, and monthly in June and July. Weekly publication resumes at the start of the new academic year.

Immigration forum seeks humane, workable solutions
Experts on immigration law reform convened last Thursday [April 27] at UConn to discuss many of the same issues that are vexing lawmakers in Washington.
Planning helps keep students safe during spring weekend
Students this year took safety messages about spring weekend to heart and participated in the University-sanctioned events in record numbers.
General Assembly ratifies trustees' terms
The General Assembly has ratified new terms for several members of the Board of Trustees, including Dr. John W. Rowe, Michael Bozzuto, Michael J. Martinez, Wayne Shepperd, and Richard Treibick.
CPTV documentary features UConn nurses
An in-depth look at the shortage of nurses is the focus of a Connecticut Public Television program called "Nursing Shortage Diagnosis Critical," in which nurses from both the Health Center and the Storrs campus are interviewed.
More headlines...