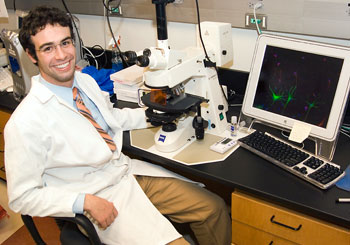 Ryan Notti, a biological sciences major and 2006-07 Goldwater Scholar, has worked in the Center for Regenerative Biology since his freshman year.
Photo by Dan Buttrey
April 3 , 2006 ¦ Volume 24, No. 26

Sophomore named Goldwater Scholar
Ryan Notti, a sophomore majoring in biological sciences, is one of just 332 students in the nation to be named a Goldwater Scholar for 2006-2007.
Multicultural office presents first diversity awards
Sixteen people – many with connections to UConn – and the University's Division of Enrollment Management were honored Wednesday, during the first Diversity Awards ceremony, sponsored by the Office of the Vice Provost for Multicultural and International Affairs.
High-achieving freshmen inducted into national honor society
Some 300 UConn freshmen were honored for their academic successes at the Alpha Lambda Delta (ALD) induction ceremony March 27, in Rome Ballroom.
Faculty encouraged to attend PTR forum April 7
Faculty and administrators are encouraged to attend a forum on promotion, tenure, and reappointment (PTR) on Friday, April 7, from 3 to 5 p.m., in Shippee Dining Hall.
More headlines...