From yoga to acupuncture, massage to meditation and Reiki, the Health Center is teaching students about some age-old healing strategies and offering them to patients. It is also applying rigorous scientific study to some of these approaches.
"We know that more than half the American population uses some form of complementary or alternative medicine," says Dr. Mary Guerrera, associate professor of family medicine and a strong proponent of the judicious use of integrative medicine.
"Our goal is to foster research and education that will broaden our knowledge of integrative medicine and its efficacy."
Guerrera and her Health Center colleagues sponsored a health fair last month on integrative medicine that included demonstrations and discussions of more than a dozen different therapies. It drew more than 200 people.
"We want to introduce our students and faculty to the therapies and their practitioners," says Guerrera, who incorporates acupuncture into her medical practice, "and we want to help the practitioners connect with each other, so they can share and advance their knowledge."
The health fair was funded with a $5,000 grant from the Bravewell Collaborative, which promotes increased understanding of integrative medicine.
People attending the fair were also encouraged to watch a two-hour documentary, The New Medicine, that will be broadcast on Connecticut Public Television on March 29, from 9 to 11 p.m. For more information on the program, visit www.thenewmedicine.org.
"It's all about getting the word out about integrative medicine," says Guerrera.
"Patients are not using complementary and alternative medicine in isolation. They are using it along with treatments recommended by their doctors. That means doctors have to become familiar with these therapies and have some knowledge about which ones are safe and effective and which might be harmful or ineffective."
The Health Center, a member of the Consortium of Academic Medical Centers for Integrative Medicine, which advocates a model of integrated healthcare that treats mind, body, and spirit, began introducing medical and dental students to integrative medicine as part of the curriculum several years ago.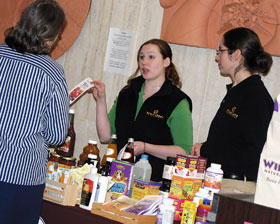 The Health Center sponsored a health fair last month on complementary and alternative medicine.
Photo by Tina Covensky
Amala Guha, assistant professor of medicine, provides workshops and lectures extensively about Ayurveda, one of the world's oldest medical systems, which originated in India and incorporates the use of herbs, massage, and yoga.
And, with a $1.8 million grant from the National Institutes of Health, some faculty members are studying energy medicine and its efficacy on bone formation and wound healing.
Gloria Gronowicz, professor of orthopedics, used the health fair to report on the results of her study on the effects of Therapeutic Touch (TT) treatment on bone cells outside the body. TT was performed by practitioners, who are also registered nurses, who held their hands at least four to 10 inches from the cells in a culture dish.
Treatments lasted 10 minutes each and were administered twice a week. Untreated bone cells and bone cells treated with placebos were included as controls in the study.
Based on the results, Gronowicz concluded that TT increased proliferation of normal human bone cells after two weeks of treatment. It significantly increased mineralization by normal human bone cells, but significantly decreased mineralization of human bone cancer cells, compared to untreated or placebo-treated cultures.
"There has been an explosion of interest in complementary and alternative medicine," says Guerrera.
"Our goal is to familiarize the public and our own health care community about integrative medicine and arm them with knowledge about its value and efficacy."