Graduation speakers to include U.S. rep, Nobelist
by Karen Grava - March 13, 2006


Eight individuals who have achieved success in politics, writing, business, bioethics, medicine and the law will receive honorary degrees from UConn in May, and four will address students during Commencement ceremonies in Storrs, Hartford, and Farmington.
U.S. Rep. Rosa DeLauro (D-3rd District) will receive an honorary doctor of laws degree and address undergraduate Commencement ceremonies at 10 a.m. and 3 p.m. on Sunday, May 7, at Gampel Pavilion.
DeLauro, of New Haven, is serving her eighth term in Congress. She serves on the Appropriations Committee; the Labor, Health, and Human Services Committee; and the Education Subcommittee. She is a ranking member of the Agriculture, Rural Development, Food and Drug Administration and Related Agencies Subcommittee.
She served as assistant House Minority Leader from 1999–2002. Before her election to Congress, she was executive director of EMILY's List, a national organization that works to increase the number of women in elected office.
DeLauro was also chief of staff for U.S. Sen. Christopher Dodd (D-Conn.) from 1981 to 1987.
Also receiving honorary degrees during the undergraduate ceremonies are:
Barbara Ehrenreich, the author of 13 books, including the best-selling Nickel and Dimed: On (Not) Getting by in America and most recently, Bait and Switch: The (Futile) Pursuit of the American Dream. Ehrenreich has been a contributing writer for Time magazine since 1990. Her work covers health care, class, families, and sex and gender politics, and has appeared in The New York Times and Washington Post magazines, Ms., Esquire, The Atlantic Monthly, Harper's, The Nation, The New Republic and other magazines. She has a doctorate in biology from the Rockefeller University.
David Chase, chairman and chief executive officer of Chase Enterprises, and his wife, Rhoda Cohen Chase, both of whom are well known for community service and philanthropy. Born in Poland, David Chase survived a Nazi concentration camp, immigrated to New York, and eventually settled in Hartford. He met his wife at UConn. Chase Enterprises has domestic and international interests in such diverse industries as radio, television, cable-broadcasting, banking, manufacturing, and petroleum. Rhoda Chase, who was born in New Britain, has been active in numerous community organizations, including the Connecticut Opera Guild, the National Council of Jewish Women, The Women's Auxiliary of Mt. Sinai Hospital, the Greater Hartford Chamber of Commerce, the Hartford Ballet, and the New Britain Museum of American Art. She also is an interior designer, and served as president of the Parkview Hilton Hotel in Hartford from 1981 to 1989. She was vice president and treasurer of Chase Department Stores in Newark, N.J., from 1963 to 1966. The Chases live in West Hartford.
Graduate Ceremonies
Amartya Sen, Lamont University professor and a professor of economics and philosophy at Harvard University, and until recently the master of Trinity College, Cambridge, U.K., will receive an honorary doctor of laws degree and deliver the Commencement address to students at the graduate ceremony in Gampel Pavilion on Saturday, May 6, at 2:30 p.m. Sen, a native of Santiniketan, West Bengal, India, received the Nobel Prize for economics in 1998. His books, on topics such as economic inequality, poverty and famine, ethics, and freedom, have been translated into more than 30 languages. His newest book, Identity and Violence: The Illusion of Destiny, will be published later this year by Norton. Sen has served as president of the Econometric Society, the Indian Economic Association, the American Economic Association, and the International Economic Association.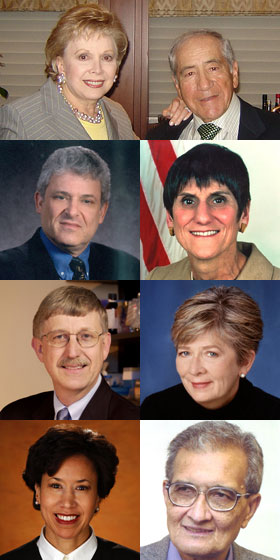 From top, Rhoda & David Chase, Arthur Caplan, Rosa DeLauro, Francis Collins, Barbara Ehrenreich, Allyson Duncan, Amartya Sen.
Also receiving an honorary degree during the graduate ceremony is:
Arthur Caplan, the Emmanuel and Robert Hart Professor of Bioethics, chair of the Department of Medical Ethics, and director of the Center for Bioethics at the University of Pennsylvania in Philadelphia. Caplan, the author of 25 books and more than 500 papers in refereed journals, has served on advisory boards for the United Nations, the President of the United States, and the U.S. Department of Health and Human Services. He has been called the "Babe Ruth of medical ethics," and writes a regular column on bioethics for MSNBC.com. Caplan also is a frequent contributor to National Public Radio, CNN, MSNBC, The New York Times, the Washington Post and the Philadelphia Inquirer, among others.
School of Law
The Hon. Allyson Duncan of the U.S. Court of Appeals for the Fourth Circuit will speak during ceremonies on Sunday, May 21, at 10:30 a.m., at the School of Law. Duncan was the first African-American to head the state bar association, the first African-American woman to be named to the North Carolina Appellate Court and, in 2003, the first African-American and the first woman to serve on the Fourth Circuit. She will receive an honorary doctor of laws degree.
Health Center
Francis Collins, director of the Human Genome Research Institute in Bethesda, Md., will speak on Sunday, May 14, at 1 p.m., during Commencement at the Health Center. The author of hundreds of scientific publications, he is credited with discovering the genes responsible for a number of human diseases, including cystic fibrosis. Collins, who has both a medical degree and a doctorate in physical chemistry, is an advocate for protecting the privacy of genetic information. He has volunteered to provide medical care in developing countries. He will receive an honorary doctor of science degree.