The University's new Center for Implant and Reconstructive Dentistry has received a $500,000 gift from Straumann USA to expand its curriculum in the rapidly growing field of dental implant therapy.
Swiss-based Straumann is a world leader in dental implant and oral tissue regeneration products.
The donation, in addition to previous support from the company, will fund research into new dental implant technology and will strengthen patient care and education programs at the School of Dental Medicine, which consistently ranks among the top three dental schools in the country.
In addition, Straumann is providing dental implants, prosthetic components, surgical and prosthetic instrumentation, training resources, and materials to support predoctoral and postgraduate dental implant curricula.
According to Dr. Thomas Taylor, head of the Health Center's Department of Oral Rehabilitation, Biomaterials and Skeletal Development, "One of the things that sets Straumann apart is that the company places such high value and high priority on education and research in implant dentistry.
Their willingness to invest in our center clearly demonstrates the value they believe we can bring to education and research efforts."
Dental implant therapy has been growing in importance internationally as a preferred alternative to tooth replacement and other conventional restorations.
As a result of Straumann's donation, UConn dental students will have the enhanced capability to place and/or restore dental implants during their clinical studies.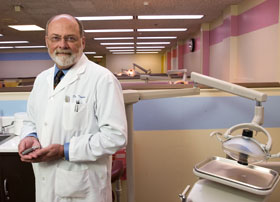 Dr. Thomas Taylor, head of Oral Rehabilitation, Biomaterials, and Skeletal Development at the Health Center, holds a model of a dental implant.
Photo by Peter Morenus
This provides students with the tools they need to perform the latest dental implant procedures.
"Receiving such a generous gift from a prestigious leader in the dental implant industry provides us with the necessary resources to jump-start our new implant center," says Dr. Peter Robinson, dean of the School of Dental Medicine.
"The school is currently recognized as a center of excellence in dental implantology," Robinson adds, "but the support from Straumann will allow us to move to the next level."
The Center for Implant and Reconstructive Dentistry will be an integral part of the Health Center's Musculoskeletal Institute.
The Center will serve both students and practicing dentists as a training center and support network for the advancement of dental implant studies in Connecticut and the surrounding region.