Since she began skating on the pond in her back yard when she was six, Kathleen (Katie) Beriau has dreamed of being an Olympic figure skater. Through years of skating lessons and performances at hundreds of individual skating competitions, she has pursued her passion. Now, paired with figure skater Joseph Gazzola from Hudson, N.Y., she is one step closer, after the pair made the United States Figure Skating Team last year.
"My goal is to get to the World Figure Skating Championships and the 2010 Olympics," Beriau says. "This will really be a challenge, because only two pairs teams get to compete."
Beriau, who trains at the International Skating Center of Connecticut in Simsbury while taking evening courses at UConn's Greater Hartford Campus, fits in several courses a semester around a rigorous workout schedule. She has a 3.8 grade point average. She would like to be an athletic trainer or physical therapist when she "retires" from skating.
"I try to make sure I have time to study," says Beriau. "Sometimes I have to take off a semester when there are too many competitions."
Coached by Russian World Pairs Champions, Vadim and Evgenia Naumov, Beriau and Gazzola spend three hours on the ice and two hours off the ice every day, practicing jumps, lifts, and spins while perfecting their performance with choreographer, Elena Petrenko, the sister-in-law of Russian skater Victor Petrenko.
"Skating is very big in Russia and there is a long history of this sport there," says Beriau. "Even the Russian costume designers are amazing. They send us sketches, and we e-mail back our measurements. They make them fit perfectly and never even see us."
She says working under the direction of Russian coaches and choreographer has moved her skating up to the national level.
Leaving Holden, Mass., during her senior year in high school to begin serious training in Connecticut, Katie began her quest for gold as an individual skater. In 2003, she was quoted in a skating magazine as saying she wanted to try pairs. Gazzola, also an individual skater, contacted her and they decided to try skating as a pair.
"We learned about pairs skating together and everything just clicked," says Beriau. "Within one year of competition, we moved into the senior level."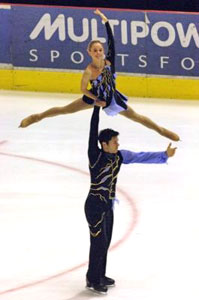 Katie Beriau, a part-time student at the Greater Hartford Campus, and her partner, Joseph Gazzola, skate in Zagreb, Croatia, in November 2005.
Photo by Barry Mittan
The pair completed the U.S. National Skating Championships in 13th place last year. They were asked to compete in the Golden Spin of Zagreb in Croatia, competing internationally against Russian, Canadian, and Polish skaters and taking 3rd place and a berth on the U.S. National Skating Team.
An ankle injury slowed the pair's progress this year: Beriau was unable to perform their entire program at the sectional meet in Pennsylvania.
They placed 5th and were the first alternate pair at the U.S. National Skating Championships in St. Louis Jan. 9-14. The pair would have competed if one of the other pairs needed to forfeit the opportunity due to injury or illness.
"We trained as though we would compete in Nationals," Beriau says, "but unfortunately we did not get the opportunity this year."
Taking this year's setback in stride, the pair will continue to perfect their short program,– 2 minutes and 50 seconds, set to the music from the movie Once Upon a Time in Mexico – and their long program: 4 minutes and 40 seconds, set to Rachmaninov's Piano Concerto #2.
"Performing the long program is like running a full sprint for five minutes including lifts and jumps," she says. "It's a very rigorous program and we have to train for it in sections, adding more and more as we go."
When Beriau is not training, going to competitions, attending classes, doing homework, or working part-time at the Banana Republic store, she teaches young children how to figure skate.
"I just love to be on the ice with the kids," she says. "It reminds me so much of when I was a little girl, dreaming of one day being an Olympic ice skater."