A man in a white coat walks through the door. Bonnie Voight, coordinator of the Maternal Fetal Medicine (MFM) Fellowship Program at the Health Center, says "Hello, Jay." The man stops and says, "I'm Alan."
Alan Bolnick completed his three-year MFM Fellowship at UConn and has been an MFM doctor for two years. His identical twin brother Jay, also an MFM doctor, arrived in October.
Members of staff have been trying to tell them apart ever since, and often have to rely on the brothers' ID badges to avoid mistaken identification.
After you meet them, you understand why: Not only do they look alike and often wear the same clothes, they sound the same and share similar mannerisms. They also have a similar sense of humor.
"Both love to tell stories and have a dry sense of humor," says Voight. "They're personable, a little shy and, above all, they're very generous and would do anything you asked them to do."
Jay is single, Alan has a wife and baby daughter.
The brothers also own identical Great Danes. They can't tell their dogs apart, and the pets are often equally confused about their owners.
Sometimes the twin brothers know what the other is thinking and finish each other's sentences.
Once in a while, they feel each other's pain. When Alan was working in Augusta, Ga., for example, he was in an ambulance accident while escorting a patient to a nearby hospital. His right kidney was seriously injured in the crash.
At the same time, miles away in New Orleans, Jay began suffering from severe, unexplained pain in his right side. Hours later he found out from his mother that Alan had been in an accident.
The twins, who grew up on a farm in Elmer, N.J., loved farm life, but their father didn't want them to follow in his footsteps.
According to Alan, "When we were seven or eight years old, our dad gave us each a pitch fork and said 'You can either shovel cow manure for the rest of your lives … or become doctors.'"
Says Jay, "It was the right decision to become doctors, but it wouldn't surprise me if both of us end up owning a farm or at least a big chunk of land some day. Farming is in our blood."
And it was on the farm where they had their first exposure to obstetrics delivering calves. Delivering a 100-pound calf may be a bit more physically challenging than your typical eight-pound baby, but it was rewarding nonetheless and encouraged them to become ob/gyn doctors.
"It's a medical field dealing with mostly healthy people," says Alan. "And it's usually a happy occasion because you're bringing a new life into the world."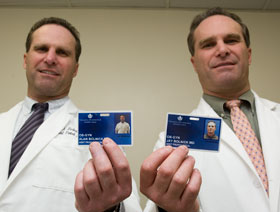 Drs. Alan, left, and Jay Bolnick, identical twins, both work in Maternal Fetal Medicine at the Health Center.
Photo by Peter Morenus
The brothers went to the same college and medical school: George Washington University School of Medicine. The professors and patients there often got them confused.
Alan remembers a time when he was severely reprimanded by one of his professors for not knowing enough information about one of his patients. "But the reason I couldn't answer his questions," he adds, "was because it was Jay's patient, not mine."
After medical school, Jay did his residency at Tulane University in New Orleans and Alan went to Jackson Memorial in Miami.
They teamed up again after their residencies and become partners in a private practice in Atlanta, Ga.
That is where Jay and Alan made national news. The identical twin doctors delivered identical twin babies, at the same time, in the same hospital. A statistician figured the chances of that happening to be one in a billion.
When they decided to further their training, Alan came to the Health Center and Jay did a fellowship at the University of New Mexico.
Alan was so pleased with his training at UConn that he tried to persuade his twin to return to the East Coast. His encouragement paid off when Jay decided to apply for a job at the Health Center.
"There is a cohesiveness among the doctors at the Health Center," says Alan. "It's a warm environment and an excellent place to grow."
The Maternal Fetal Medicine faculty practice at the Health Center has a strong history of providing comprehensive care for pregnant women with special health concerns such as diabetes, hypertension, heart disease and other conditions that can affect a pregnancy. The practice is comprised of fellowship-trained experts like the Bolnick brothers.
"We're thrilled to have them both here," says Dr. Winston Campbell, director of the Division of Maternal Fetal Medicine. "They may be hard to tell apart, but they're extremely hard working and provide excellent care, which is what we care most about."
While the brothers enjoy working together again, they do knock heads sometimes.
"But it's only a war of words," explains Jay. "We never fight physically – that would be like hitting yourself in the mirror."