When the shuttle Discovery passed through Earth's atmosphere into space in July, it marked the first launch of an American space shuttle since 2002. Few people from Connecticut were closer to the situation than Amy Donahue.
Three years earlier, the assistant professor of public policy at UConn had been one of the people in the fields of eastern Texas searching through the wreckage of the space shuttle Columbia, which disintegrated during its return flight to Earth, killing all seven astronauts aboard.
Following the Columbia disaster, Donahue, who joined UConn's faculty in 2000, was appointed by the then-administrator of NASA, Sean O'Keefe, to serve on the Stafford-Covey Return to Flight Task Group. The group, named for the two former astronauts leading it, was charged with assessing NASA's response to the Columbia tragedy, as well as determining safety issues and readiness for a return flight to space. Donahue also serves on a standing NASA aerospace safety advisory panel.
Originally from Old Lyme, Donahue began her career in the U.S. military, and then became a firefighter in Alaska and upstate New York. She received her Ph.D. in public administration from the Maxwell School of Public Affairs at Syracuse University, and later was a lecturer at Syracuse.
Donahue says O'Keefe was one of her mentors. Following Sept. 11, 2001, O'Keefe asked her to serve at NASA to develop its role in the new mission of homeland security, and she went on to become a technical advisor to the new U.S. Department of Homeland Security.
Donahue watched Discovery take off from the Kennedy Space Center in Florida.
"It really was an emotional moment for all assembled," she says. "NASA has done an enormous amount of work since the loss of Columbia, and the launch was surely a celebration of those accomplishments. It also brings some personal closure for those who spent months in the field recovering Columbia and her crew. It feels like the central goal of that work – to get back to space – has been realized."
Discovery's flight was not without problems and lingering safety concerns, especially when a piece of foam came loose from the shuttle during take-off. A similar event had doomed Columbia when debris struck and dislodged one of the craft's outer heat shield panels, allowing deadly heat to penetrate the shuttle during its re-entry to Earth.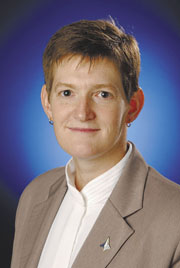 Amy Donahue, assistant professor of public policy.
"I think it's quite clear that NASA still has important work to do to be sure they are flying as safely as possible," says Donahue. "I was not concerned once it was clear that the large piece of foam that came off had not hit the orbiter. NASA had a very rigorous program to image and inspect the orbiter on this flight, and as a result we saw a lot more than we ever had before – but we also saw that we had a very clean vehicle. Even the removal of the gap filler was an opportunity for NASA to demonstrate some limited on-orbit repair capability."
Discovery returned safely to earth in August.
Some have suggested that the space program continue only through unmanned robotic flights, removing any danger for astronauts. Donahue is committed to the continuation of the space program with human beings at the helm.
"As a pragmatic matter, the sensitivity of the human mind and fidelity of human hands far surpass the capabilities of the robots we can build now or will be able to develop any time soon," she says. "But more than that, human exploration of space is really about fulfilling our thirsty spirits and satisfying our immense curiosity."
A CBS News poll released Aug. 4 showed that while 59 percent of Americans support continuing the space shuttle program, that number has dropped from 75 percent in 2003. Still, Donahue strongly supports NASA's mission of space exploration.
"It's about extending ourselves and expanding our being," she says. "It's about reaching beyond the confines of our current condition. Some argue that we should not reach for the stars before we get our act together here on Earth. And goodness knows, we have much work to do to make our home planet secure and prosperous.
"But if we never look further, we will never see further," she adds. "To achieve, we need to strive."