In search of better bone health, strength, and balance, a group of older women is testing some of the same techniques used by body builders.
The women, all over age 65, are taking DHEA (dehydroepiandrosterone) and participating in twice-weekly exercise sessions of yoga or gentle aerobics for a six-month period, as part of a NASA-funded study to see whether the combination improves their bone strength and balance.
"Our goal is to see whether DHEA and exercise can increase older women's strength and balance and help prevent falls and fractures," says Dr. Anne Kenny of the Center on Aging, principal investigator for the study. "If we can find an association between DHEA and strength in frail adults, not only could it help them avoid hip fractures that can sharply curtail activities and independent living, it might even be helpful for astronauts who lose bone and muscle while they are in space."
DHEA has a slightly unsavory reputation because it was abused by professional athletes searching for peak performance, Kenny says. "In fact, it's a natural hormone produced by the adrenal glands, that peaks in humans in their mid-20s and then declines, as much as 80 percent by age 70. Low levels of DHEA have been associated with higher death rates and higher fracture rates.
"We want to see if DHEA supplements in small amounts are beneficial to bone, muscle, and balance in older adults," she adds. "We all lose muscle as we age, whether we want to or not. Perhaps hormones like DHEA are part of the reason why it's a little bit easier to stay fit when we're younger."
Volunteers participate in a brief questionnaire and have their DHEA levels tested through a simple blood test.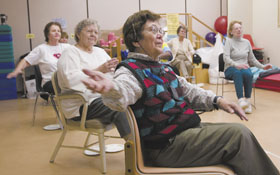 Seniors exercise at the Health Center, as part of a study on bone strength and balance.
Photo by Peter Morenus
"While DHEA levels go down generally as we age, the decline can vary significantly among individuals," says Kenny. "We look for volunteers with low levels of the hormone because we will be giving DHEA supplements and we don't want their levels to get too high."
The study participants also receive bone density testing and instruction in aerobics or yoga.
May Louchen, who is 75, signed up for the study after seeing a flier at her local senior center.
"I have a lot of arthritis and I thought maybe the DHEA and the exercise would help me," she says. After the initial screening, she was randomly assigned to aerobics.
She says the exercise classes have been fun.
"When I heard it was going to involve chair dancing, or exercising while seated, I thought it sounded silly. But you're moving your arms and legs at the same time," Louchen says. "It's peppy movement and takes coordination. I really enjoy it."