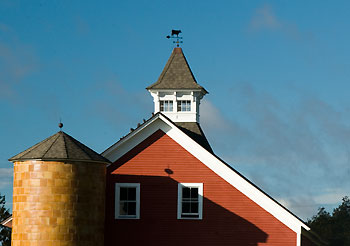 A view of the Farwell Barn at the corner of Horsebarn Hill Road and UConn Husky Way. The barn was built around 1870.
Photo by Peter Morenus
October 31, 2005 ¦ Volume 24, No. 10
Doctoral program in kinesiology earns top ranking
The Department of Kinesiology in the Neag School of Education has received one of the highest honors in its field. Its doctoral program in kinesiology has been ranked first in the nation by the American Academy of Kinesiology and Physical Education.
Nobel Prize-winner address economics grad students
Nobel Prize-winning economist Finn E. Kydland advised economics graduate students to take plenty of math courses, find a mentor, and "get your hands dirty on a research paper early on," when he visited UConn recently.
Sackler lecture to be give by Nuremberg prosecutor
Benjamin Ferencz, a distinguished legal scholar who was a young prosecutor at the Nuremberg trials for Nazi war crimes after World War II, will deliver the Raymond and Beverly Sackler Distinguished Lecture in Human Rights.
Martin Luther King III to open Month of Kindess
The University will begin its fifth Month of Kindness with a speech by Martin Luther King III, a human and civil rights leader and the eldest son of renowned civil rights leader Martin Luther King Jr.
More headlines...