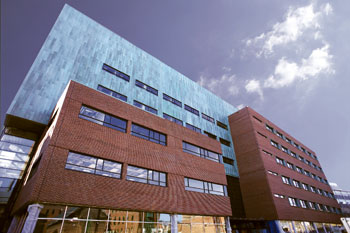 A view of the new Pharmacy/Biology Building.
Photo by Paul Horton
October 17, 2005 ¦ Volume 24, No. 8
Pharmacy/Biology Building dedication set for Oct. 21
During a dedication ceremony scheduled for 2 p.m. Friday, Oct. 21, faculty, staff, and students will be able to get a first-hand look at the new, 226,000-square-foot Pharmacy/Biology Building
Pikal installed as first Pfizer Chair in Pharmaceutical Technology
Michael Pikal, a professor of pharmaceutical sciences, was installed as the first Pfizer Distinguished Endowed Chair in Pharmaceutical Technology on Oct. 14.
Scientists discover genetic key to growing hardier plants
A team of scientists led by Roberto Gaxiola, an assistant professor-in-residence of plant science, has discovered a genetic key to generating plants that are more productive, more drought-resistant, and can grow in soils low in nutrients.
State historian to speak on Hartford witch trials
Nearly half a century before the Salem witch trials made an indelible imprint on history, the first American was executed for the crime of witchcraft. Her name was Alse Young and she was hanged in Hartford, Conn., in 1647.
More headlines...