Microhistory – the in-depth study of a limited historical topic – was the subject of a seminar hosted by the Humanities Institute in the College of Liberal Arts and Sciences this summer.
The seminar was one of only 20 nationwide funded by the National Endowment for the Humanities (NEH) to provide opportunities for college and university teachers to study with established scholars.
Fifteen faculty from as far away as Georgia and Oklahoma worked with five leading scholars, including three from UConn, to study early American microhistories.
A microhistory is "a work that concentrates on a limited topic – usually tightly focused in time and place," said Richard D. Brown, director of the Humanities Institute, who led the seminar. Brown is a Board of Trustees Distinguished Professor of History.
Microhistories are popular now, both inside and outside academia, he noted. David Hackett Fischer's Pulitzer Prize-winning Washington's Crossing is a type of microhistory, he said.
"Large abstractions are frequently difficult to master. If you have a particular episode filled with actual individuals and it's developed in great depth, readers get a sense of what's happening," he said.
Brown and his wife, emeritus professor Irene Q. Brown, and Robert A. Gross, the James L. and Shirley A. Draper Chair in Early American History, were among the scholars who worked with visiting faculty at the seminar. The Browns recently published The Hanging of Ephraim Wheeler: A Story of Rape, Incest, and Justice in Early America, and Gross is the author of The Minutemen and Their World, both core readings for the seminar.
The seminar drew faculty from various disciplines in the humanities and at various stages in their careers. They pursued their own research projects and worked together to learn the techniques of writing a microhistory.
"Historians as a group are not terribly dare-devilish," said one of the participants, Sarah Fatherly, who teaches early American and women's history at Otterbein College near Columbus, Ohio. "We learned to be creative. We learned what microhistory enables you to do."
Fatherly used her free time during the month-long seminar to take advantage of the resources of a major research university, including the digital collections at the Homer Babbidge Library, which provide access to published materials from 18th-century England and from the colonies. These are resources she needs to research the diary of Charlotte Browne, an Englishwoman who came to America with the British Army during the French and Indian War to serve as a matron, or head nurse.
"One thing we talked about a lot this month was, how do you reconstruct someone's life like this?" she said.
"We learned to think in different ways and ask different questions," she added.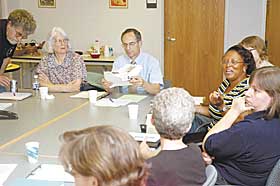 Barbara McCaskill, associate professor of English at the University of Georgia, speaks during a group discussion led by Irene Brown, emeritus professor of family studies, and Richard Brown, director of the Humanities Institute. The discussion was part of a workshop on microhistory.
Photo by Melissa Arbo
Barbara McCaskill, an associate professor of English at the University of Georgia whose research specialty is African-American literature, is studying William and Ellen Craft, married slaves who escaped from Macon, Ga., in 1848 and lived in London for 19 years, returning to Georgia after the Civil War to establish schools for newly freed slaves. Their story is important because it provides another perspective on slavery, she said.
Ellen Craft, a light-skinned mulatto who had been a lady's maid for her white half-sister, posed as a white Southern gentleman in order to escape. William, a trained carpenter who was allowed by his owner to travel and hire out his skills, learned the landscape and train routes to guide their effort.
The Crafts were a "cause celebre" during their time but are hardly known today, McCaskill said. Her goal is to write a book about them, and her four weeks spent among historians "was very affirming and reassuring."
"It let me step back and think of the big picture again," she said.
Bryan Waterman, who teaches early American literature at New York University, learned how microhistory could be used in a literary format. He is starting a book about Elizabeth Whitman, who lived in Hartford in the late 1700's and was a poet and friend of elite literary figures in Connecticut.
Whitman, whose father was minister of South Congregational Church in Hartford, ran off to Danvers, Mass., when she became pregnant. She had the baby at a tavern where she was staying, but both mother and child died. Her story became the barely disguised basis for a 1797 novel, The Coquette, or the Story of Eliza Wharton, a bestseller into the 1800's.
The mystery of who the father was – poet Joel Barlow and Pierpont Edwards, the son of Jonathan Edwards, were the subjects of speculation – kindled the sensationalism of the story.
Waterman is interested in how storytelling shaped Whitman's life and death, and how her story became entwined with literary stereotypes – the fallen woman, the coquette, and the seduced and abandoned woman.
Pamela Baker, who teaches history at the University of Cincinnati, said that talking to students about an individual in history and reading primary sources helps them understand the larger context of events.
"Sometimes you lose the students when you just discuss the big picture," she said.