Health Center Chief of Urology
Honored by Board of Directors
By Carolyn Pennington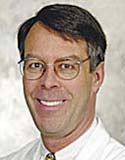 Dr. Peter Albertson
Photo by Janine Gelineau
Dr. Peter Albertsen, professor and chief of urology in the Department of Surgery, has been named recipient of this year's Health Center Board of Directors Faculty Recognition Award. He received the award during the Health Center's commencement ceremony on May 15.
A nationally renowned urologist and researcher, Albertsen has been at the Health Center for more than 18 years. He has earned an international reputation for his work on prostate cancer, and is the author of many publications.
"This award is one that celebrates and rewards demonstrated and universally recognized excellence," says Claire Leonardi, chair of the Board of Directors. "Dr. Albertsen has served the Health Center with great distinction, and is well recognized for his contributions in research, patient care, education, and administration."
Albertsen is on the editorial board of several publications, and frequently reviews manuscripts for the major urological journals. He is president-elect of both the New England Section of the American Urologic Association and the American Association of Clinical Urologists. He also received the prestigious honor of a five-year appointment as trustee of the American Board of Urology, the group that grants board certification to other urologists in the United States.
"At a national level, Dr. Albertsen has played a pivotal role in our understanding and treatment of prostate cancer," says Leonardi. "The Board is both appreciative and proud of his accomplishments and continuing activities."
Albertsen is also highly regarded as a compassionate clinician and mentor for medical students interested in the field of Urology, says Dr. Peter Deckers, executive vice president for health affairs.
"As the director of the Urology Residency Program, Dr. Albertsen has developed a greatly respected and sought-after graduate medical education program," Deckers says.
A graduate of Princeton University, Albertsen received his medical degree from Columbia University. After two years of surgical training at Harvard Medical School's Deaconess Medical Center, he completed a residency in urology at the Johns Hopkins University's Brady Urological Institute. He later received a master of science degree in medical administration and preventive medicine from the University of Wisconsin.
The award, which carries a $10,000 prize, was established in 2003 by the Board of Directors to recognize and celebrate excellence in faculty members.
Albertsen's name and photo will be on permanent display on a plaque at the Health Center.