Health Career Program For Youth
Receives National Recognition
By Jane Shaskan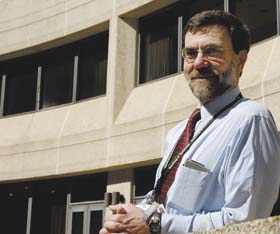 Dr. Bruce Gould of the Health Center is co-founder of a program to encourage high school students to pursue health-related careers.
Photo by Peter Morenus
A new program designed to recruit high school students to health careers has been nationally recognized for exemplary community-based collaborative activities by the Council on Linkages Between Academia and Public Health in Washington, D.C.
The Connecticut Youth Health Service Corps, a program of the Connecticut Area Health Education Center (AHEC) at the UConn School of Medicine and the State Department of Public Health, received the first-place 2005 Linkage Award.
"Connecticut AHEC and the Department of Public Health are working together to help students recognize and avoid the pitfalls that can prevent them from reaching their full potential," says Dr. Bruce Gould, associate dean for primary care and program director of the Connecticut AHEC at the School of Medicine, a co-founder of the corps.
The program is also intended to help address workforce shortages and the under-representation of racial and ethnic minorities in the health care professions.
Martha Okafor, chief of the Family Health Section at the state Department of Public Health and a co-founder of the youth corps, said the program was also part of an innovative strategy that addresses teen pregnancy through skills building and career development.
"Students learn about public health, personal health, and community service," she said. "They are exposed to meaningful ways of spending their time, and they learn about new opportunities available to them in the workforce."
Students from schools in urban, suburban, and rural locations volunteer at community health centers, dental clinics, homeless shelters, and long-term care facilities.
More than 20 high schools and 60 volunteer sites currently participate in the program, which is implemented through the state's AHEC centers in Hartford, Waterbury, Bridgeport, and Norwich.
Training for the health corps includes courses in infection control methods, confidentiality and privacy rules, disease prevention, cultural competency, homeless awareness, and CPR. During the first six months of the program, 116 students were trained as volunteers, almost double the goal for the first year.
Tricia Harrity, executive director of the Northwestern Connecticut AHEC, says the program was able to grow quickly because the AHECs' regional presence and reputation for working with young people who are interested in pursing a career in health care.
The number of corps students who choose a health-related career will be monitored.
"The corps is an effective way of providing many young people with a future and hope," says Okafor. "We want them to know they have choices."
Collaborators on the project include the Connecticut Primary Care Association and the National Health Service Corps.