Public Interest Issues a Focus for Class Rep
By Sherry Fisher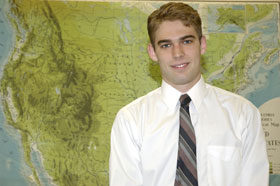 Kyle Noonan
Photo by Dollie Harvey
When Kyle Noonan came to UConn as a freshman, he intended to major in biology – but a course he took in a completely different field made him change his mind.
"I took an introduction to economics course, and knew that was what I wanted to study," he says. "I had intended to go into biology, but I realized that, as interesting as biology was, economics was simply a profound tool to describe human behavior."
He didn't give up on the sciences, however: He minored in ecology and evolutionary biology, as well.
Noonan, who is from Old Town, Maine, earned a 3.98 GPA at UConn. One of two senior class representatives, he will speak during the afternoon Commencement ceremonies on May 8.
Noonan was chair of ConnPIRG, a student advocacy group that deals with public interest issues including environmental protection, poverty relief, and consumer rights. Involved in the organization for four years, he says it has been the perfect place to use his skills.
"It is one of the most active student groups on campus, and has a reach beyond the University," he says. "It has enabled me to work on issues that affect both the state and the nation."
Noonan says he spent most of his time as an undergraduate on his honors thesis, classwork, and working at PIRG. He also was an intern in the Office of Environmental Policy. "I got to initiate projects," he says, "and have worked on some dealing with our vehicle fleet and lighting, to improve efficiency and save money for the University."
A University Scholar, Noonan undertook a project that examined the economic health of Connecticut's mill towns, including Willimantic, Torrington, and Meriden, looking at the economic impact of various public policies and making recommendations to improve these cities' economic vitality.
At some point in the future, Noonan would like to attend law school, but for now, he says, "The only thing that's definite is a big fishing trip I've been planning with my buddies from high school: fly fishing in the Rockies."