Battle Against Worldwide Hunger
Can Be Won, Says UN Taskforce Leader
By Anand Prakash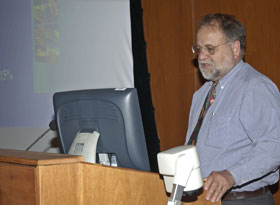 Pedro Sanchez, co-chair of the United Nations Taskforce on Hunger, speaks at the Thomas J. Dodd Research Center on April 21.
Photo by Dollie Harvey
Severe hunger and disease exact a terrible toll on human populations worldwide, but humanity can decisively turn the tide against chronic malnutrition, according to Pedro Sanchez, co-chair of the United Nations Taskforce on Hunger.
Speaking at UConn on April 21 as part of the Teale Lecture Series, Sanchez said the taskforce, created in 2002 as part of the UN Millennium Project, is working to cut hunger in half by 2015.
Nearly one-sixth of the world population suffers from extreme hunger, he said, with most cases occurring in Africa, Asia, and Latin America. Ninety-two percent of the people affected are chronically malnourished, and millions succumb to a 'silent tsunami' of malnutrition-related illnesses each year.
Despite such odds, he said, "the world is now ripe for a decisive increase in poverty elimination, agricultural production, and improved health and nutrition."
Sanchez highlighted the humanitarian nature of the taskforce's work. The effort to decrease hunger is"necessary in terms of human rights and morality," he said.
Through scientific research and community leadership, he said, the world community can attack hunger on three levels: political action on a global scale, policy reform on a national scale, and concentrated community action in the most intensely afflicted areas.
The hunger taskforce, along with other programs of the UN Millennium Project, provides science-based policy advocacy at the global level to achieve a set of "integrated, quantitative, and time-bound goals for poverty reduction," known as millennium development goals, Sanchez said.
The taskforce has collaborated with governments in Africa – home to 88 percent of the world's "hunger hotspots" – to establish centers where scientists in a number of fields, from agriculture to nutrition, can research these goals.
He said greater cooperation is needed between agriculture and nutrition professionals, as these groups have traditionally operated independent of each other in both government and academia.
The taskforce also works with African heads of state to facilitate policy reforms at the national level; and many – at Sanchez's urging – have incorporated the millennium development goals into their poverty-reduction strategies.
Sanchez said the biggest challenges for African states, however, are not political but physical.
Africa is hampered by poor infrastructure, he said, adding that a lack of serviceable roads makes the cost of transportation the "bane of Africa." He noted that it costs twice as much to move a ton of maize from Mombasa, Kenya to Kampala, Uganda, as it does to ship the maize from Iowa to Mombasa.
The difficulties apply to crop production as well. For example, the topography of the land renders most complex irrigation schemes futile, so that fields have to be rainfed.
To overcome these obstacles and initiate a "green revolution" in Africa like those in Asia and Latin America in previous decades, Sanchez recommended increased investment in the "front end of the food chain": soil health, water management, and improved seed quality.
He described a program known as "Millennium Villages," where villagers, under the direction of the taskforce, gather to assess their needs and then use information they collect through plot mapping and resource surveys to implement counter-hunger measures. Some villages have distributed thousands of nets to combat malaria-carrying mosquitoes, for example; others have produced hybrid maize seeds capable of growth in inhospitable soils.
He said community agricultural extension workers – high school graduates specially trained by the taskforce – also can play a key role.
And he noted there are several innovations that could ease the burden on women, who perform 80 percent of the farming in Africa and currently have few if any rights. Rooftop water harvesting, for example, would eliminate the need to transport water from distant sources, work that is traditionally done by women; and growing firewood on farms would save women the task of hauling wood over great distances.
Sanchez, a senior researcher at Columbia University's Earth Institute, was awarded the 2002 World Food Prize for his work and is the recipient of a 2004 MacArthur Foundation "Genius Grant."