Professor Introduces Ethical Issues
To Computer Science Students
By Karen A. Grava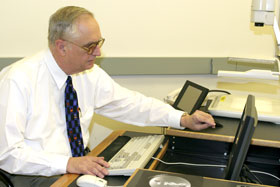 Gerald Engel, a professor of computer science and engineering at the Stamford Campus, encourages his students to discuss ethical and public policy issues related to computer technology.
Photo by Tina Covensky
Most of the questions Jerry Engel poses to his students have no right or wrong answer. That's not so unusual for a college professor, except that Engel is not teaching philosophy, sociology, or English – he's teaching computer science.
"My class deals with professional ethics, public policy, and professionalism," he says. "We look at how computer scientists should behave, what they should say, what their values should be. Sooner or later, students will be in the workplace and they will have to use judgment."
Often, his students end up developing educational programming, designing computer games, or working in corporate information technology offices. So the questions he poses to them go from the simple to the complex. Should you use a database collected for one purpose for another? Should you farm your work out to India or another country? Can you make a buck legally selling computers that might malfunction to the Third World? How about to another company?
Engel says the students have not considered the ethical issues before, and often have long discussions about the answers before they move on to the public policy issues where, often, there is no right or wrong answer.
"You are weighing two goods against each other," he says. "You agree, for instance, that people have a basic right to privacy, but you know that society has to have certain information to function. And you know that if you have information in a database, someone can expose it. So you weigh the values you need to have as a technician as a lobbyist for a group or for society."
Engel, who holds an endowed chair as a professor of computer science and engineering at the Stamford campus, is also beginning his term as president of the 100,000-member Computer Society of the Institute of Electrical and Electronics Engineers (IEEE). The Computer Society, founded in 1946, is the largest of the 42 societies of IEEE. Engel, a fellow of IEEE, has also served as president of the IEEE's Society on the Social Impacts of Technology, one of IEEE's smallest societies. Additionally, he is a Fellow of the Association for Computing Machinery, the other major computing educational and scientific society based in the United States.
One of the issues he looks at, along with his students, is what he calls the "digital divide," or the disparity between those who have access to computers and those who do not.
"If you need a computer to function, we have an obligation as a society to provide it," he says. "It's like food stamps, or public housing. Computers have changed our society."
But Engel himself is not plugged in. He doesn't carry a cell phone or a Blackberry, and he isn't plugged into e-mail all day.
"I am a reluctant technician," he says. "I don't like casual technology."
A veteran of computer security work, he finds himself logging in three or four times a day, but avoiding the continual connection as a matter of protecting his privacy.
Engel has been working for more than 20 years in schools of engineering, but he attended a very pure liberal arts college for his undergraduate work. "I grew up in Cleveland, and Hampton-Sydney College was a day away from home," he says. He didn't think twice about what his final career would be and enjoyed his days there.
He has a master's degree in mathematics from Louisiana State University and an Ed.D. in computer science from Pennsylvania State University.
Engel has a longstanding interest in historically black colleges, which he developed as an undergraduate. He has been a consultant to several colleges in the South, including Tougaloo College and Fisk University, as well as the University of Puerto Rico at Mayaguez and Virginia State University, and has also worked with the United Nations addressing issues of the digital divide in developing countries.
Engel also spent four years in the early 1990's at the National Science Foundation, focusing mainly on improving computing programs for underrepresented minority students.
Along the way, he has won a number of major awards, including the outstanding service award from the Association of Departments of Computer Science and Engineering at Minority Institutions, the Association for Computing Machinery, NASA, and IEEE.