Alumni Recount Experiences in Iraq
By Kenneth Best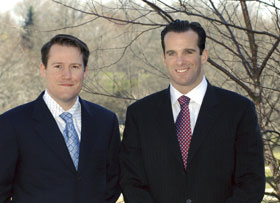 Scott Holcomb, left, and Brett McGurk,both UConn alumni, spoke on April 14 at the Alumni Center about their experiences in Iraq.
Photo by Daniel Buttrey
Two UConn graduates who played different roles in helping Iraq on the path toward a democratically elected government described their experiences in the Middle East to students and faculty on April 14.
Scott Holcomb, a 1994 political science graduate who served as a military legal advisor to the Coalition Forces Land Component Command, and Brett McGurk, who served as an adviser on the writing of Iraq's interim constitution, discussed Iraq in various forums throughout the day, ending with a presentation at the Alumni Center.
McGurk, a 1996 political science graduate and Washington, D.C. attorney, who previously served as law clerk for U.S. Supreme Court Chief Justice William Rehnquist, said he is optimistic about the future of Iraq's fledgling democratic government.
"Aspirational goals can indeed change reality in dramatic ways," he said. "Most critics were not there on the ground seeing the process up close. When you see it up close, you come away with a sense of optimism, not what you see watching television from the United States."
He adds, "My confidence comes from seeing a legitimate government in place."
McGurk said the determination of the Iraqi people to live in a democracy is strong, noting that even as terrorist tried to disrupt the election by bombing election locations, Iraqis returned to the lines in order to vote.
McGurk related a conversation he had with an Iraqi attorney, who reminded him that one of the historic legal figures pictured on a frieze inside the U.S. Supreme Court is Hammurabi, the king of Babylonia. Hammurabi is credited with being among the first to codify laws that regulated the ancient world of the Middle East, including Iraq.
Holcomb, now an Atlanta-based attorney, served as a captain in the U.S. Army Judge Advocate General's Corps. He participated in Operation Enduring Freedom and Operation Iraqi Freedom. One of his key assignments was to provide legal advice on military targets in Iraq.
"We went through thousands of targets we would likely strike, but there had to be a military purpose," he said. "We were concerned about presidential palaces. Often the write-up was for the symbolic value of Saddam Hussein's power. That doesn't cut it. You have to have a military reason."
Holcomb said while the legal basis for the Iraq war will continue to be debated, "that was a national decision made by national leaders." He also said he did not dispute the existence of weapons of mass destruction in Iraq.
"From everything I saw and acted on, I was convinced they had them," he said.
Holcomb said the military leadership viewed its post-war role as an occupying force, noting that specific legal responsibilities are outlined for such a role.
But "civilian leadership" chose to portray the post-war U.S. role as a "liberating force," he said, which lacks legal specifics and for which soldiers had not been trained.