Agriculture Grad Students Present
Projects At Research Forum
By Anand Prakash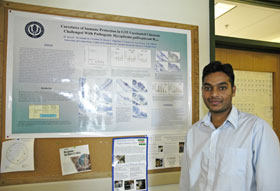 Mohammed Javed, a Ph.D. student, shows a poster displaying his work on immune protection and vaccines against Mycoplasma gallisepticum. The pathogen causes chronic respiratory disease and infectious sinusitis in poultry. Javed conducts his research at the University's Center of Excellence for Vaccine Research.
Photo by Dollie Harvey
Imprinted genes in cloned cattle, Lyme disease in horses, and food quality in Connecticut towns were some of the topics at the seventh annual Graduate Council Research Forum, held by the College of Agriculture and Natural Resources on March 25. Students displayed their research through posters and presentations, incorporating diagrams, graphs, and tables into their talks. Each presenter was allotted 15 minutes to present his or her project and entertain questions from the audience.
The projects – based on research from a broad sweep of geographical areas, ranging from the Fenton River in Storrs to the Yellow River basin in China – were organized according to the college's six departments: animal science, plant science, nutritional sciences, pathobiology and veterinary science, natural resources management and engineering, and agricultural and resource economics. There were also separate categories for master's and doctoral students.
Kirklyn Kerr, dean of the college, said the forum provided an opportunity for graduate students to present their research in front of professors and peers. The students "cannot just do research," he said, "they have to communicate it to others."
He noted the forum is organized by the students themselves. Two representatives from each department form the College's Graduate Council, which plans the forum and an accompanying luncheon and awards ceremony.
Gwenn Gaumond, a master's degree student in pathobiology and veterinary science, presented a project titled "Equine Lyme Borreliosis: Two Case Reports." Under the direction of Professor Sandra Bushmich, Gaumond conducted research on two groups of horses in Storrs and Avon. She monitored the horses' responses to the bites of ticks carrying Borrelia burgdorferi, the bacterium that causes Lyme disease. She also tested the effects of various treatment options on the horses, discovering that, while horses could recover on their own, some form of treatment was helpful in countering the disease.
Gaumond said she found the research forum valuable. Students in the various departments usually concentrate on their own subfields, she said, and the event brought students throughout the college together: "It is very helpful to know what other departments are doing."
Master's degree candidate Mark Hood, a student in the Department of Natural Resources Management and Engineering, studied the benefits of various methods of pollution prevention, particularly in areas undergoing different degrees of residential development. With the assistance of Professor John Clausen, Hood examined the effects of several "best management practices" on water content at the Jordan Cove Urban Watershed project site in Waterford, Conn. He found that "low impact development" neighborhoods using best management practices yielded more favorable results, including lower levels of polluting metals and solids, than those subjected to traditional development.
Although he studied journalism as an undergraduate, Hood grew interested in the College of Agriculture and Natural Resources when he attended a previous research forum and heard the students' presentations. He said this year's forum was a useful preparation for displaying his research in other academic settings in the future: "I need the experience of presenting, and I need the feedback."