Center's Research Bolsters Notion
That Alcoholism Is Treatable
By Kristina Goodnough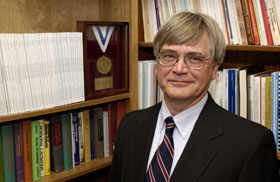 Victor Hesselbrock, director of the Alcohol Research Center and holder of the Physicians Health Services Chair in Addiction Studies at the Health Center, studies the treatment and prevention of alcoholism.
Photo by Peter Morenus
For centuries, alcohol has been both a boon and curse: a boon for its ability to boost spirits and conviviality, even if only temporarily, and a curse for its addictive hold on many and the destruction it wreaks on the health and welfare of those in its throes.
Victor Hesselbrock, scientific director of the Health Center's Alcohol Research Center, has spent years researching the nature of addiction and mechanisms to ameliorate its ruinous side effects. Finally, he believes he and his colleagues are on the verge of real success.
"I wouldn't have said it 10 years ago, but looking backward and looking forward, this is a shining moment for alcohol research," says Hesselbrock, a professor of psychiatry. "We have made huge advances in understanding the causes and risk factors for alcohol addiction, as well as in its treatment and prevention. It's a wonderful time to be involved with alcohol research."
His optimism stems from some of the basic and applied research that has been underway at the Alcohol Research Center for more than 25 years.
One project, the Collaborative Study on the Genetics of Alcoholism, led to the discovery of a gene that is related to alcohol susceptibility. The multi-site NIH-funded research project studied 14,000 individuals in 2,500 families with a history of alcoholism.
"Everyone talks about finding a gene for a psychiatric disorder, but their work is seldom replicated," Hesselbrock says. "Our finding has been replicated four times in different samples over the past two years."
The discovery provides a good starting point for looking at the functional nature of the disorder and for finding other genes involved in alcoholism susceptibility, he says: "No medical condition is ever fully determined by genes, but they play an important part. We can take this particular gene back to the lab and try to understand its role and function. Genes by themselves don't do anything but make proteins. Now we can begin to ask why, how, and when."
The center was also involved in the study of Naltrexone, the first drug approved by the FDA for alcohol treatment in over 50 years, and, more recently, in studies that led to the FDA approval last year of another drug, acamprosate. In addition to clinical trials of these two drugs supported by the Alcohol Research Center, Dr. Henry Kranzler, associate director of the center, has conducted studies of other new pharmacological agents.
The center's advances are helping bolster the idea of alcohol dependence as a treatable disorder. "After years of dismissing treatment for alcoholism as largely ineffective, we are gradually getting the medical community to move toward the view that it can and should help their patients who need to reduce their drinking," says Hesselbrock. "People with diabetes take medicine along with making changes in their life style. It's the same thing for people with heart disease; they take medication, but they also have to change their lifestyle. We're getting closer to that point with alcohol dependence. We are going to be able to treat it with a combination of drugs, behavioral therapies, and lifestyle changes."
Hesselbrock got into alcohol research by serendipity. He was at Washington University (St. Louis) finishing his Ph.D. after a stint in Vietnam with the U.S. Army. "I was one of many young faculty investigators competing for scarce dollars," he says. "Dr. Roger Meyer had just received the grant to establish the Alcohol Research Center at the Health Center and he was looking for faculty."
Hesselbrock was associate scientific director of the center until 1992, when he became principal investigator and scientific director. He also holds the Physicians Health Services endowed chair in Addiction Studies at the Health Center, and is current president of the Research Society on Alcoholism.
Hesselbrock's role in alcohol research will continue to expand, thanks to his recent appointment to the National Advisory Council for the National Institute for Alcohol Abuse and Alcoholism of the NIH. In that position, he will help establish the institute's funding priorities and agenda for research initiatives.
In addition to the clinical and research aspects of his work, Hesselbrock is also keenly aware of the legal and social dimensions of alcohol use.
"We know prohibition doesn't work, but we also know that easy access to alcohol increases the number of people who have problems with it," he says. "We are much more aware of the importance of limits on alcohol use, demonstrated by legislation that places restrictions on its sale, as well as the legal age for drinking and blood alcohol levels."
He notes that interest in and concern over alcohol use and abuse waxes and wanes.
"Alcohol is a legal drug that is widely available," he says. "Our goal is to move forward with our understanding of addiction and treatment. We also want to raise awareness and reduce the stigma of the disorder.
He adds, "The problem is not confined to those who are alcohol-dependent and those who develop medical problems because of chronic use, but also to those who are careless with alcohol, perhaps on a Saturday night or at a wedding, and then injure themselves or someone else in an accident. If we can have an impact on them, get them to understand they're drinking too much, then we will be able to make a huge dent in the burden on society due to alcoholism."