NEH Fellow Studies Health Care
System In Colonial Puerto Rico
By Lucinda Weiss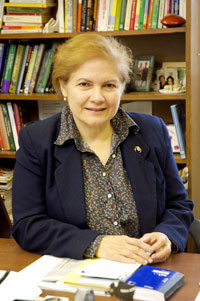 Blanca Silvestrini, a professor of history and Puerto Rican and Latino studies, is writing a book about colonialism in Puerto Rico.
Photo by Melissa Arbo
America's new relationship with Caribbean countries at the end of the Spanish American War in 1898 is often described as "colonizers versus the colonized." Blanca Silvestrini, professor of history and a recently named National Endowment of the Humanities (NEH) Fellow, disputes that generalization.
She is proposing "a different way of understanding that very important period of American expansion to the Caribbean," one that promotes a middle ground, where both sides influenced each other.
Silvestrini, who is one of 195 NEH Fellows nationwide for 2005-2006, will use her year as a Fellow to complete a book describing how the public health system in Puerto Rico from 1898 to 1940 reflected the nuances of the colonial relationship.
America's colonial expansion intersected with the emergence of a new society in Puerto Rico that was under way before the Spanish American War, she says.
Americans, to their surprise, found in Puerto Rico well-established laws, an educated medical community, and big hospitals in San Juan. Amidst the tension and opposition that might be expected in a colonial relationship, American and Puerto Rican medical practitioners shared ideas and developed new public health policies.
By the 1930's, health services in Puerto Rico had been decentralized, and the regional system of health care that took its place was eventually adopted in some rural areas of the southern U.S., she says.
Women were the link that made possible the "pretty revolutionary" regionalization in Puerto Rico, Silvestrini says. Early in the 1900's, they entered the workforce as nurses, teachers, and social workers. They spread medical and social services into the mountains and coffee-growing areas, modifying new health policies in response to the needs of people in rural areas.
"If they didn't think a policy was effective, that was it," she says.
The disease that focused attention on public health was hookworm. When Americans arrived in Puerto Rico, they were surprised to find widespread anemia, she notes. Dr. Bailey K. Ashford, a U.S. Army surgeon who went to Puerto Rico with the U.S. forces in 1898, wrote of Puerto Rican men whose "pallor was the pallor of centuries."
Ashford and a team of Puerto Rican scientists and health practitioners used microscopes and scientific methods to uncover the cause – hookworm, an intestinal parasite that can be picked up by direct skin contact with contaminated soil.
Any success in health reform had to deal with how people organized their homes, Silvestrini says. Habits of diet and sanitation had to be changed to break the cycle of the disease. Women health workers took the new ideas about how to prevent hookworm into the field and adapted them so they would be accepted locally. Science and modern methods had to come to terms with local resistance and customs.
Through what she calls a "rich repository" of archival material in Puerto Rico, Silvestrini has tried to reconstruct the scientific relationships at the Institute of Tropical Medicine's Center for Research, which was established in 1913 by Ashford and other American and Puerto Rican scientists.
The institute, funded in part by the Rockefeller Foundation, generated research and policy and was "a very important arena of interaction in colonial society."
"The Americans had more power," she says, "but there were many fights over policy."
Silvestrini has studied Bailey Ashford's memoir and his field notes, as well as correspondence, journals, and meeting notes.
She has also gathered oral histories of women who worked as nurses, teachers, social workers, and volunteers, and found resources such as public health posters that were displayed at clinics far from San Juan.
Silvestrini says her research has united two of her long-time interests, gender history and the history of health care. Another of her research areas is how working people have coped with forces of modernization.
Besides a Ph.D. in Latin American history from SUNY-Albany, Silvestrini has a law degree from Stanford University. She also was a fellow at the Center for Advanced Studies in the Behavioral Sciences at Stanford University and a visiting professor of law.
A native of San Juan and a graduate of the University of Puerto Rico, where she later taught and was vice president for academic affairs, Silvestrini has her own early memories of local autonomy challenging U.S. interests.
Her father was a pharmacist in Puerto Rico at a time when the pharmacist was the local health provider. He led a movement in the 1950's to prevent the Walgreens drugstore chain from opening stores on the island. Many people wanted health care to remain a Puerto Rican endeavor, she recalls.
That desire also was reflected in the public health campaigns earlier in the century.
Says Silvestrini, "Some of these things resonate so much."