Recent news reports concerning UConn 2000 have generated concern across the University community. Last week I sent an e-mail to students, faculty, and staff that addressed some of the issues that were raised, but I want to use this opportunity to once again correct misimpressions that may have arisen.
President Philip E. Austin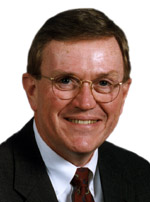 Let me say at the outset that UConn 2000 is, has been, and – with its successor program, 21st Century UConn – will continue to be a tremendous success. It has created an attractive, accessible, and advanced campus that is a point of pride for students, faculty, staff, and citizens of our state. Problems – and there have been some – have focused on a small number of projects and a small percentage of expenditures. I say this not to minimize the challenges; in fact, we attach the highest priority to remedying immediate problems and, more fundamentally, strengthening our processes and policies. It is nevertheless important to view recent difficulties in the context of a university moving at breathtaking pace to meet highly ambitious goals.

The key issue raised in the news stories relates to the level of external oversight of UConn 2000 projects. In fact, as I said in my e-mail and as those familiar with the program well know, UConn construction is extensively monitored. I am not aware of any state agency whose building programs are subject to as much oversight, and this is something we welcome. To reiterate a few elements:
The Auditors of Public Accounts review UConn 2000 activities as part of their annual audit of the University. In fact all University expenditures over $250,000, including construction-related expenditures, are routinely reviewed by state auditors. The auditors attend meetings of the Board of Trustees/Board of Directors Joint Audit and Compliance Committee; receive all information disseminated in connection with these meetings; and have the opportunity to communicate directly with committee members.
The General Assembly's Legislative Program Review and Investigations Committee undertook an exhaustive assessment of UConn 2000 in 2002. The committee's 52-page report indicated that "The University process (for managing the construction phase of its UConn 2000 projects) incorporates industry best practices for controlling costs, schedule, and quality ... The University management periodically reassesses construction-related policies and procedures to identify and implement changes to improve performance, and outcomes are regularly monitored by the Board of Trustees and the legislature."
The report recommended no legislative changes, an unusual outcome for the committee's review process.
As mandated by state statute, the University submits semi-annual progress reports on UConn 2000 to the Governor and to the Connecticut General Assembly. All 19 reports completed to date outlined projects, budgets, timelines, and contractor lists, presented issues of concern, and updated previous reports. The UConn 2000 program is reviewed annually by the Bonding Subcommittee of the General Assembly's Finance, Revenue, and Bonding Committee.
UConn 2000 financing is subject to extensive review in connection with the issuance of bonds. Involved in this review are rating agencies, the State Treasurer's Office, and bond counsel.
These ongoing reviews have served all of us well and helped guarantee the highest level of achievement in our building program. We have won awards for several specific projects, and our underlying processes have been honored by the American Council of Engineering Companies and the Energy Conservation Management Board.
Media accounts also dealt with issues pertaining to building and fire code violations at Hilltop Apartments. From the time these violations first became known, protection of students, correction of the problem, determination of its cause, and assuring that such a situation never recurs became the institution's – and my – top priorities. That the violations did not create threats to student safety was of some comfort, but did not diminish the seriousness we attached to the issue.
In addition to prompt communication and remedial action, we have restructured our internal oversight processes for existing and new construction, including the establishment of a University Fire Marshal and Building Inspector's Office under the Division of Public Safety. This office will provide an increased level of oversight and code compliance for every project.
News reports touched on other issues that are, frankly, less well-grounded. For example, insinuations that our systems are based on anything other than competitive contractor selection have no basis in fact. As those familiar with our construction program know, we maintain a rigorous pre-qualification process for contractors that evaluates them on criteria specified in state statute. This system is open and competitive and we set no obstacles to contractors who seek to engage in the pre-qualification process. Pre-qualification is just a first step; contractors who pre-qualify can only gain contracts through a process of competitive selection.
We are mandated by state law to award contracts on the basis of qualifications and cost through a fair, open, and competitive process that does not take a firm's location into account. Still, as of our October 2004 report, approximately 88 percent of the total contracted funds under UConn 2000 were awarded to Connecticut firms.
Space limitations prevent my response to other issues raised in recent days. But it is important for you to know that we take all issues seriously and investigate concerns thoroughly. None of us claims perfection; along the way in UConn 2000 we have learned from experience and are bringing our systems – initially designed for a campus mired in the problems of perpetually deferred maintenance – to the level required for a major transformation. This we will continue to do.
We welcome public oversight, not just because we are proud of what has been accomplished, but because the more input we have, the more quickly we will be able to identify areas for improvement and the more rapidly we can take corrective steps.