Updated Design, Layout Give
Economic Quarterly New Look
By David Bauman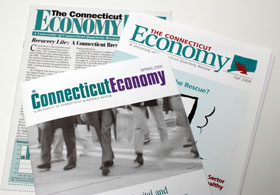 Issues of The Connecticut Economy illustrate how the quarterly's design has developed since its inception. inception.
Photo by Carina Gjerdrum
The Connecticut Economy, A University of Connecticut Quarterly Review, the 12-year-old independent quarterly published by the Connecticut Center for Economic Analysis to keep an eye on the state's economic performance, has a new look intended to match its content and purpose.
Beginning with the just-released Spring 2005 issue, the publication has a new design and layout, its first major overhaul in 10 years. The new design includes more white space, larger headlines, new typefaces, and greater use of charts, tables, and color, to make its pages more accessible and easier to read. The front cover has a new logo and uses photographs for the first-time, replacing the cartoon-like illustrations that had become a trademark of the publication. The quarterly also has four extra pages, permitting more detailed attention to critical issues in the state's economy.
"We felt that the old design was a little dated," says Steven Lanza, the publication's executive editor. "The magazine didn't have the seriousness in appearance that we intend and believe it deserves."
He says the redesign will not change the content.
"The Connecticut Economy has always been a publication that looks at topics of economic interest in Connecticut in a balanced, impartial analytical way, driven by data and analysis," he says. "This is an effort to have our look match our content."
Launched on a tiny budget in 1993, The Connecticut Economy is "a unique publication," says Fred Carstensen, director of the Connecticut Center for Economic Analysis, the quarterly's parent organization. "No other state has one quite like it."
The quarterly's mission is to improve Connecticut residents' understanding of their state's economy and help fulfill the University's land-grant mission of service.
From the start, Carstensen says, it has drawn on the experience and resources of UConn faculty to provide both in-depth analysis of the state economy and an array of indices and forecasts on state economic performance that are not available from any other single source.
Over the years, the format of the publication has evolved from newsletter to news magazine, Carstensen says, adding: "We feel our new image helps us project more 'gravitas'."
Jeff Blodgett, director of research for the Connecticut Economic Resource Center, says the publication earns high marks for its new look. "If the goal of the redesign is to attract more readers, it will," he predicts.
Peter Gioia, an economist with the Connecticut Business and Industry Association, which is a founding sustaining partner of the publication, says "The new look sets a business-like image that will make more impact and help raise the level of discussion about critical policy choices."