New Program Gives Undergraduates
A Taste of Medical School
By Scott Brinckerhoff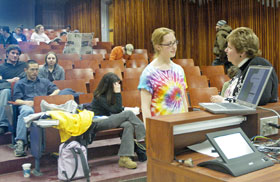 Victoria Williams, a sophomore majoring in physiology and neurobiology and chemistry, speaks with Dr. Michelle Cloutier before class. Cloutier, a professor of pediatrics at the School of Medicine, delivered a presentation on cystic fibrosis as part of the Mini-Medical School program for students in the Honors Program interested in medical careers.
Photo by Melissa Arbo
A new "mini medical school" is giving honors undergraduates who have their eye on a medical career a look ahead at what to expect in medical school.
"You can see that it's not going to be a walk in the park," says Alberto Distefano, one of 80 students who have been exposed to large amounts of medical data delivered by guest lecturers from the Health Center each Tuesday night in the Castleman Building.
Indeed, one idea behind the 10-lecture series is "to give students a very clear understanding of the depth, complexity, and speed that material will be presented to them in medical school," says Joseph Crivello, who helped develop the series.
Crivello, a professor of physiology and neurobiology, says the lectures also serve to introduce students to instructors they will encounter if they attend the UConn Medical School, and perhaps to nudge at least some students toward a particular area of medicine that might become a life-long pursuit.
"We've never done anything like this before," he adds.
Crivello says the students are quite attentive during the lectures, while the faculty show considerable skill in animating topics that might otherwise be ponderous.
A visitor to one of the lectures quickly discovers that there's more to a projected diagram of the human ear than meets the eye, at least when Leslie Bernstein, associate professor of neuroscience, is elucidating. Mixing humor with anatomy, physics, and neurology, Bernstein offers a colorful description of the ear in all its complexity.
"This thing hanging off your head called the pinna," he says, manipulating his own ear, "it's not just there to hold up your glasses. It allows you to localize sound, to determine whether a source is above, in front of you, or below you.
"If you don't believe me," he adds, "on Sunday when you go out for bagels and cream cheese, fill the ridges of your pinna with cream cheese and you'll find you have completely lost your ability to tell whether a sound is above or below you."
Launching into a discussion of nerve fibers and their role in transmitting auditory information, he says, "If the visual system is like a Hyundai firing on three of its four cylinders, the auditory system is a Ferrari. There's simply no comparison."
Students are not tested at the end of the lecture series, and some do not even take many notes, since the purpose is less about learning specifics than about recognizing the breadth of the subject matter and how it will be presented in medical school.
"I'm more of a book-learner than a note-taker, anyway," says Distefano, a senior majoring in biological sciences. "The lectures are a really good idea because they let newer students see if this is a career path they really want to pursue. It's good not to have to worry about absorbing everything that's said."
For Erika Avery, another senior, the lectures are reinforcing her determination to practice medicine. "It's a way to feel out different areas of medicine, to get a lot of background and exposure all at once," she says. Avery, at UConn on an Air Force scholarship, is drawn to aerospace medicine and intends to complete her residency on an Air Force base during her four-year military obligation.
The lectures are almost entirely centered on the science of medicine rather than its social aspects, although the concluding lectures do explore the current and future state of health care and the doctor/patient relationship. The final lectures will be delivered by Dr. Peter Deckers, dean of the School of Medicine, and Dr. Anthony Voytovich, professor emeritus of medicine.
The topics, which may vary from one year to another, all require some previous course work by the students, or at least reading in advance. This semester's topics have included, among others, molecular genetics, principles of the immune response, angiogenesis and tumor growth, and electrophysiology of the heart.
The lecturers are essentially volunteers, Crivello says, who take time from already busy days to try to excite students about subjects they find fascinating and challenging.
The mini-medical school idea unfolded partly because of a scholarship program funded personally by Dr. John Rowe, chair of the Board of Trustees, and his wife Valerie.
The Rowes' interest in attracting top students to UConn to pursue health care careers led to increased contact between the Storrs campus and the Health Center and Medical School in Farmington, says Lynne Goodstein, director of the Honors Program.
As the two schools began working together more closely, the idea of bringing in guest lecturers each week during the spring semester took shape, she adds.
"The value of this program is profound in terms of the way it is motivating students," she says. "The turnout has been fantastic and all indications are it's going great."