Teale Speaker Discusses Convergence
Of Human Activities, Natural Disasters
By Lucinda Weiss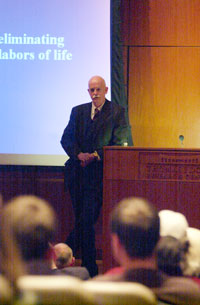 William H. Hooke, director of the Atmospheric Policy Program and the American Meteorological Society, gives a presentation on "Living Sustainably on a Planet of Extremes: The Outlook for Disasters, Plagues, and Turmoil in the 21st Century," at Konover Auditorium. His talk was part of the Edwin Way Teale Lecture Series on Nature and the Environment.
Photo by Jordan Bender
Earthquakes, tornadoes, and tsunamis are not a suspension of the norm – they are the way nature works, according to William H. Hooke.
Hooke, director of the Atmospheric Policy Program of the American Meteorological Society, made his remarks during a lecture at Konover Auditorium on Feb. 24, one of the Edwin Way Teale Lecture Series on Nature and the Environment.
Disasters are the result of social decisions, he said, decisions such as building cities on earthquake fault zones or in coastal regions, for example. When humans' extreme social activities converge with nature's norm of extreme events, the disruption of entire communities is the result.
Planning for the likely confluence of extremes is needed to avoid mega-disasters, said Hooke, who was formerly deputy and acting chief scientist at NOAA, director of the U.S. Weather Research Program Office, and a White House adviser.
"The human race has not had much practice in looking down the global chessboard" at potential disasters, he said.
Drought, tornadoes, hurricanes, fires, earthquakes, and mudslides cost the United States an average of $500 million a week, or 0.5 percent of its gross national product, he said.
And the effects of these disasters are increasingly devastating, because of decisions people and societies make about how to use Earth's resources.
People like to live on the beach, for example, yet hurricanes in the U.S. in 2004 alone affected the lives of many people and had a severe economic impact, including the loss of tourism revenues in Florida, temporary disruption of the oil supply, and uninsured losses incurred by businesses and individuals.
In addition, he noted, most of the natural gas pipelines for the northeastern U.S. run through an area around New Madrid, Mo., where three earthquakes occurred in 1812 that rang church bells in Boston.
Although losses in the U.S. are considerable, the economic impact of natural disasters in less developed countries is even more severe. A 1998 earthquake in Central America, for example, cost some countries 50 percent of their GNP, and the 2004 earthquake and tsunami cost the Maldives 200 percent of GNP.
"The confluence of extremes generated by humans is on a roll," Hooke said. "In a very short time, we've begun to consume all of earth's resources – metal, water, air. It took humans 100,000 years to go from a clay counting tablet to an abacus, then 1,000 years to go from an abacus to the first computer, but only 50 years to move to laptops, iPods and the technology we use today.
"We have no idea if we can keep up," he added. "One hundred and fifty years ago we believed we could dump anything in the ocean, that the climate never changes, and that the weather was unpredictable. Today we know that the ocean's capacity is finite, the climate can change and change abruptly, and weather can be predicted."
Still, Hooke's forecast was optimistic. In the year 2500, he predicted, people will look at the era around 2000 as the Age of the Environment, when society had a blossoming of interest in fixing problems it had created.
"It will be taken care of," he said. "What we tend to see as our greatest problem, the future will see as our greatest achievement.
"I believe that we will use all our technologies and skills – computers, satellites, communications, political will – to keep the planet clean, protect biodiversity, and plan for the natural variability in climate change," Hooke added. "In 500 years people will say there was a flowering of unity because 6 billion people decided to save the environment."
The Teale lectures, an interdisciplinary series of talks on environmental issues, is co-sponsored by the College of Liberal Arts and Sciences and is named for Connecticut author and naturalist Edwin Way Teale.