Renovations Add Light, Technology
To Health Center Library
By Pat Keefe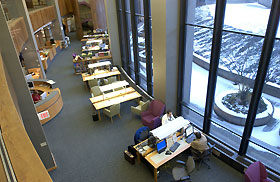 Photo by Peter Morenus
A $1.7 million makeover of the Health Center's Lyman Maynard Stowe Library is nearly complete.
"The current renovation of the library was based on the need to take a facility designed in the 1960's and bring it into the 21st century," says Ralph Arcari, associate vice president for academic resources and services, and library director. "The new library is intended to be an information commons, to use the contemporary description of how libraries are responding to library users' needs at a time when books and journals are moving to an electronic format."
"It was dark before, and gray and crowded," says Evelyn Breck Morgen, associate director. "Now it's open, fresh, bright, and inviting."
The central courtyard was used as a focal point in the redesign, Arcari says, and the 20-foot windows were seen as an attractive feature for readers. The architects were asked to "bring the outside in."
"The courtyard is so beautiful and they succeeded in making the library a part of it," Morgen says. "Everything is airy and bright."
It's functional too. The renovated library includes:
A new entrance. The main library entrance was moved directly opposite the circular stairwell from the academic entrance.

A service desk, created by combining the old circulation and information desks. Patrons can now obtain answers to their questions in one place.

An upgraded computer education center. Two PC classrooms and one Mac classroom are now available. There's also a self-study area, a place to create computer presentations, and a PDA syncing station. New technology includes two "Walk and Talk" smart boards, and the library is now covered by a secure wireless network.

Round-the-clock study rooms. When complete, these will include four group-study rooms with a table, and eight carrels with network connections and power. This area, made possible by a major donation from Anne Shafer of Bloomfield, will be secured and available to students and faculty via a swipe card entrance.

New furniture, including couches and easy chairs as well as high-
tech reading tables with network connections.

Updated heating, air conditioning, and ventilation. The new system is totally redesigned and includes new ductwork. New lighting and ceiling tiles were installed, creating a much brighter study area.

Bathrooms. Two new bathrooms are located at the back of the new copy room.
No space was added, but moving the front door and combining operations gives the impression that the renovated library is larger than it was previously.
The renovation of the library's main reading and study area was funded by state bonds and major donations. A second stage of renovations is scheduled for 2008 and will include ground-floor rooms.
"We've been looking forward to this day for a long time," says Hongjie Wang, librarian. "New fixtures and new furniture and the redesign – the library looks brand new!"