Health Center, Storrs Campus
Join Forces in Public Health Initiative
By Elizabeth Omara-Otunnu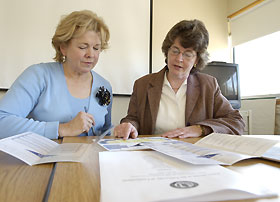 Ann Ferris, left, and Eileen Storey, co-directors of the Center for Public Health and Health Policy.
Photo by Peter Morenus
A drive to boost the University's offerings in public health education, research, and service at both the Storrs campus and the Health Center has led to the creation of an initiative called the Center for Public Health and Health Policy.
"There are tremendous public health issues in the state," says Ann Ferris, a professor of nutritional sciences and co-director of the Center.
Among them: violence, disease, an aging population, infant mortality, childhood obesity, asthma, air quality, access to dental care, the rising cost of health care, and growing numbers of uninsured people. There are also the headline-grabbing topics, such as bioterrorism, SARS, avian flu, and chemical spills. All these factors are exacerbated in Connecticut by vast disparities in wealth, which often are reflected in health issues.
"An important part of the mission of any public health initiative at UConn is the goal of reducing the disparities in health status among the state's population," says Dr. Eileen Storey, an associate professor of medicine, chief of the Division of Occupational and Environmental Medicine at the Health Center, and co-director of the Center. "Connecticut is one of the wealthiest states, yet we have three of the poorest cities."
It's an appropriate time to be focusing on public health. The Sept. 11 crisis drew public attention to gaps in the public health services infrastructure, according to David Gregorio, an associate professor of community medicine who is a member of the Center's strategic planning team. At the same time, he adds, there have been advances in the public health field, with specialists increasingly emphasizing the impact of social and economic context on individual health, and new methodologies available that facilitate public health studies.
The current initiative has its roots in a 2001 Health Center review of public health training needs, which was followed by another committee involving representatives from Storrs. In 2004, the University allocated funding for the Center to develop recommendations for public health activities involving both the Health Center and Storrs.
"The Center's work is a prime example of cooperation across the University to bring UConn's resources to bear on an issue of critical importance," says President Philip E. Austin. "The Center for Public Health and Health Policy provides a structure through which we can fulfill our mission as Connecticut's public research university in a creative, focused, and effective way."
Says Dr. Peter Deckers, executive vice president for health affairs and dean of the medical school, "Prevention of disease in populations at risk through promotion of healthy behavior and living should be a core goal of the academic and clinical mission of any health center. The Center for Public Health and Health Policy is an important cross-campus academic and service synergy of great potential value to the University and to the state."
A large number of faculty are engaged in public health-related research. A December 2003 inventory identified 160 faculty at Storrs and 77 at the Health Center with funded research projects broadly related to public health. Several of the largest externally funded projects at UConn are examples of public health work – research in nutrition, for example, or HIV/AIDS prevention.
There is little coordination, however.
"We found that many faculty were working on similar things, but they didn't know it. A more coordinated effort would help us leverage resources better and accomplish more," says Ferris.
The Center, now operating out of renovated space in the Jones Building in Storrs and scheduled to occupy space in the Dowling North Building in Farmington, has established five task forces to address different aspects of the planning effort, in addition to a steering committee, the Strategic Planning Team. Each task force also has a larger advisory group, allowing for input from a wide array of stakeholders in the state.
The task forces focus on the following topics:
Academic Program Planning.
This group is expected to propose two doctoral programs in public health: a Ph.D. consisting of academic training in one of five core disciplines (epidemiology; biostatistics; social and behavioral sciences; occupational and environmental health; and health administration and policy); and a complementary DrPH with more applied training, designed to prepare leaders for the public health workforce.
The master's in public health would continue to be offered as the primary qualification for those working in public health fields, according to Gregorio, director of graduate programs in public health, who is also a member of the academic planning task force.
Workforce Development Needs.
This task force is defining public health workforce needs in the state by identifying the various categories of public health professionals and their pre-professional and continuing education needs, both now and in the future. The local public health infrastructure in Connecticut currently comprises more than 90 different health districts, of which about 50 offer only part-time coverage. The task force anticipates that this infrastructure may in the future be consolidated to about 30 districts, and that the change will be accompanied by a need for health directors, epidemiologists, public health nurses, and others.
"There's potentially a role for the Center and for UConn in training those folks," says Charles Huntington, assistant professor of community medicine and program manager for the Health Center's Connecticut Health initiative, who co-chairs the workforce development task force. The University also has the potential to help address a shortage of trained public health personnel across the country, he adds.
Biostatistics.
The biostatistics group is seeking to increase the University's capacity to collect and analyze data in the fields of population health sciences. Strategies being explored include the recruitment of additional faculty in biostatistics, strengthening of the University's statistical consulting capacity, and sharing of courses in biostatistics between Storrs and the Health Center through distance education, says Dipak Dey, professor and chair of the statistics department, a co-chair of the task force on biostatistics.
Health Information Core.
This task force will establish a repository of health data to help policy-making across the state, while maintaining the integrity of each agency's data collection and storage.
Health promotion and disease prevention require information about the health status of the population, yet in Connecticut, that information is fragmented. In addition, the data systems in various agencies and private groups can't be assessed together. The Center is working with state agencies to understand their needs for health data and to promote mechanisms to allow different agencies to work together to promote health.
"As the state's major public university, we can help all the different state agencies to take the available data and place it in a format where it can be used," says Jeff Kramer, director of the Center for Healthcare and Insurance Studies in the School of Business and co-chair of the health information core task force.
The Feasibility of Establishing a School of Public Health. This task force is charged with exploring whether the Center for Public Health and Health Policy should continue as a coordinating body, or should expand into a school of public health, an academic entity that could hire faculty and award degrees. In response to concerns about cost, niche, and the potential to achieve excellence, proponents of a public health school suggest that such a school would enhance the ability to attract research funding; that there is currently only one public health school in New England at a public university (at the University of Massachusetts-Amherst); and that UConn could build on already well-established partnerships with state and local public health agencies, develop its strength in community-based participatory research, and focus on intervention and intervention-effectiveness research.
More than 90 faculty members are involved in the planning effort. "Every person we asked to serve on one of the committees said yes immediately," says Ferris, "and many more have become involved. Through our work, we have come to recognize what incredible capacity there is at this University to address major issues in public health for the state of Connecticut."
Adds Storey, "There is also real enthusiasm among all the people we've met outside the University in public health-related fields for UConn to take a leadership role."