From Food Courts To Coffee Shops,
Dining Services Caters To Changing Campus
By Richard Veilleux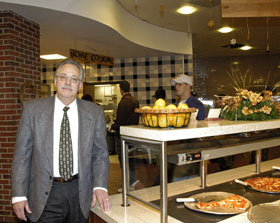 Photo by Dollie Harveys
Since arriving at UConn in 1981, Dining Services director Gerry Weller has seen the number of dining halls at the University drop from 65 to 9. He has kept pace as the student population nearly doubled. He has presided as America went from a devil-may-care nation of meat and potato eaters to a country of health-conscious carb counters. He has turned a scattershot meal plan that nearly half the student body paid for but didn't eat into an experience that draws students to show up for 85 percent of the meals they purchase.
It's quite a history. When Weller, who will retire this year, arrived at UConn as an administrator in what was then called the Associated Student Commissaries (ASC), there were 58 so-called "small" dining units, in addition to the seven "large" units operated by the University. Essentially, every residence hall had its own dining room. The work in the ASC kitchens was performed by a staff directed by students, and most meals were served family style. Meal times – breakfast, lunch, and dinner – were specific and relatively brief.
Six years later, the 58 small kitchens became 32. And several years after that, the 11 kitchens in the old South Campus residence halls closed. When the new South Campus dining hall opened, the eight kitchens in West Campus closed. Nine others were shuttered when the Northwest Dining Hall opened, and another eight last year when Towers Dining Hall joined the community.
"We knew we had to centralize," Weller says. "The vendors didn't want to deliver different products to so many different locations. Our purchasing power was pretty limited. And everybody worked for the individual dining hall, not the department. Being autonomous was pretty cool, but it clearly was not the future."
Weller says that was a hard message to convey.
"The students perceived it as losing something, but we had to get out of that system. It was like pulling teeth," he says. "The staff didn't like it either. But today it's running beautifully, I think."
Weller notes that many of the staff who worked at the University at that time are still here. "We have never laid off a worker," he says.
Although students still make up the bulk of Dining Services' workforce – there are some 650 student employees – it also has become more professional. The full-time workforce has increased to more than 350. Experienced chefs and assistant chefs, many of whom previously worked in fine restaurants, run the kitchens. There are nutritionists and experienced caterers on staff. To enhance quality and freshness, UConn has turned increasingly to Connecticut-grown produce, and it is now the single largest buyer of this produce.
Far from the single-entrée, single-sitting dining halls of old, UConn's nine current facilities are open from morning to night, and many were built on a food court model, so students can pick and choose from among dozens of options – including, at Towers dining hall, kosher. The "marché" concept caught on quickly. When South Campus opened in 1999, students flocked to its dining hall, the first to employ the open kitchen, made-to-order style. The South dining hall still holds the campus record for dinner guests – 2,700 students – set during its second year of operation.
As times became more frenetic, Weller and his staff recognized that convenience was increasingly important to students as well as faculty and staff. When the Chemistry Building opened in 1999, and the Chem Café – a coffee shop on the first floor – proved a smashing hit, another trend began. Soon to follow were coffee-and-sandwich shops in Babbidge Library and the Biology/Physics Building. Then came the Up & Atom Café in the Gant Science Complex; grab-and-go shops in a handful of residence halls; and small eateries in the Wilbur Cross and Family Studies Buildings. The Union Café in the renovated Student Union is always busy.
"I don't think there is another role on campus that impacts every member of the community every day like the director of Dining Services," says John Saddlemire, vice president for student affairs. "Gerry fulfills this crucial role with professionalism, style, and humor. He truly loves what he does and it shows."
For Weller, the changes have been constant and complete, with one exception: try as they may, he and his staff have not been able to eliminate the Freshman 15. Many first-year students are still gaining weight, no matter how many nutritionists are on staff, or how many low-calorie meals and salads are served in the dining halls.
Says Weller, "There's just too much good food out there."