Fred Maryanski to Head Nevada State College,
Leaves Record Of Success
By Elizabeth Omara-Otunnu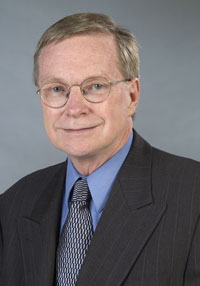 PHoto by Daniel Buttrey
Fred Maryanski, interim provost and executive vice president for academic affairs since June and longtime senior academic administrator in the Office of the Provost, has announced that he has accepted a post as president of Nevada State College. He will leave UConn at the end of this month.
"Over the past two eventful decades, Fred Maryanski has made a tremendous contribution to the University's progress," says President Philip E. Austin. "The list of achievements that bear his imprint includes the growth of the regional campuses, the enormous enhancement of undergraduate education, the strengthening of our commitment to research, the University's emergence as a center of excellence in technology, and our increased contribution to the economic development and quality of life in our state. It is no understatement to say that Dr. Maryanski is one of the handful of people who has brought UConn from a position of regional strength to national stature."
Maryanski says he has enjoyed working with "many great people who were committed to making the University a better place."
"As the University has been transformed, I have seen the change in spirit," he says. "Today, faculty and staff deservedly take great pride in the University's recognition and feel that they have been involved in creating a great University. It's good to know I've had some small part in that."
Maryanski has worn many hats at the University.
He earned a Ph.D. in computer science from UConn in 1974, joined the faculty in 1983, and became head of the Department of Computer Science and Engineering when it was established in 1986, before moving to the Provost's Office in 1989.
Keith Barker, associate vice provost and director of the Institute for Teaching and Learning, who was a faculty member in the computer science department when Maryanski was head, says Maryanski's style hasn't changed over the years.
"Fred was always very concerned about the program and about the people and about being fair to everybody," Barker says. "He supported us and provided us with what we needed.
"Fred is a guy everybody trusts," Barker adds. "You know if you go to him and he says no, he's saying no for a good reason."
As a member of the senior administration for the past 15 years, Maryanski's primary responsibilities have been academic budgeting and the regional campuses. He has also at various times been responsible for Undergraduate Education, the Registrar's Office, the Women's Center, the Center for Instructional Media and Technology, the Office of Institutional Research, and other major activities, such as enhancing the University's technology infrastructure.
He was chair of the space committee at the time UConn 2000 was developed, and was involved in early plans for the program.
During his tenure, Maryanski implemented a new academic budgeting model that gave academic administrators, particularly deans, more flexibility and greater responsibility.
He has helped the University weather the vicissitudes of the state budget. One of the toughest times, he says, was in 1999 when he had just taken over as interim chancellor. In June, it became clear that the University was facing a $10 million deficit, and would have to implement cuts July 1. Maryanski led the effort to identify where reductions could be made, and developed a process to cope with the shortfall.
Dana Wilder, assistant vice provost, who has worked closely with Maryanski on budget issues, says Maryanski is a hard worker who "stays on top of things."
"He is the only person I know you can send an e-mail to, and right after you hit 'send,' you get your response back," Wilder says. "Especially when you're dealing with financial issues, people appreciate a quick response."
Cyrus "Ernie" Zirakzadeh, a professor of political science who is chair of the Senate Executive Committee, says Maryanski's consultative style is effective in dealing with sensitive issues and reaching decisions "everyone can live with."
"He really wants to hear all sides," says Zirakzadeh. "You always feel you're getting a fair shake, even if in the end he disagrees with you."
One of Maryanski's most notable accomplishments has been the growth of the regional campuses, which were once regarded primarily as "feeder schools" for Storrs. Maryanski encouraged the campuses to develop four-year degree programs, making the University more accessible to students around the state and ensuring that the campuses would become increasingly attractive to prospective students.
He also worked with each regional campus to develop a separate identity – the Stamford campus became closely allied with the business community, for example; Avery Point sharpened its focus on marine sciences; and Torrington developed a relationship with writers and artists.
It was Maryanski who devised the Tri-Campus as a way to bring together and maximize the resources of the Hartford, Waterbury, and Torrington campuses, while maintaining the separate identities of each.
Edna McBreen, associate vice provost and director of the Tri-Campus, says the Tri-Campus is an unusual arrangement, but Maryanski had a clear vision of how it would work, and was able both to communicate it and get the system up and running.
"His ability to deal with the politics of higher education in Connecticut has been spectacular," she says, praising Maryanski's ability to negotiate. "He is leaving us in very good shape."
Nevada State College, where Maryanski will become president, is Nevada's newest college. Founded in 2002, it offers a range of baccalaureate programs and selected master's programs, focusing on nursing and education as well as disciplines in the arts and sciences.