New Provost Selected,
Joining UConn In March
By Karen Grava & Elizabeth Omara Otunnu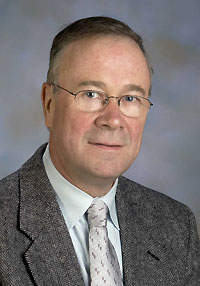 Photo supplied by Colorado State University
Peter J. Nicholls, provost and academic vice president at Colorado State University, has been named provost and executive vice president for academic affairs at UConn.
Nicholls is expected to join the University in early March, said President Philip E. Austin, who made the announcement.
"I am confident that Peter Nicholls is an excellent choice for UConn and will make a major contribution to our continued progress in teaching, research, and service," Austin said.
He praised the search committee that recruited Nicholls for "one of the most professional and best-conducted searches that I have experienced." The committee was headed by Robert Birge, Harold S. Schwenk Sr. Distinguished Professor of Chemistry.
Nicholls, 59, who has been at Colorado State since March 2002, also served as dean of the College of Arts and Sciences at Kansas State University and associate dean of the College of Liberal Arts and Sciences at Northern Illinois University.
"I am honored to have been selected for this outstanding opportunity," Nicholls says. "I have been extremely impressed with the quality and commitment of the faculty, staff, and students at UConn."
Nicholls says he was attracted to UConn by "the size and scope" of the institution.
"It is not only a land-grant school, but also the state's flagship public institution, and it has a very broad array of well-respected academic programs," he says. "In addition, the investment the state has made, especially in the building program – which made national news – speaks volumes about the commitment the State of Connecticut is making to higher education."
He says he is keen to get to know the University better.
"I will make it a priority to get out and visit faculty and students, see what's happening in the schools and colleges and at the different campuses, and get a feel for the institution," he says. "The web is helpful, as are the reading materials, but nothing beats meeting people."
Nicholls, a U.S. citizen since 1984, grew up in Kent, England. He earned a B.Sc. in mathematics from London University and a Ph.D. in mathematics from Cambridge University.
He came to the United States in 1971 as a visiting assistant professor of mathematics at Northern Illinois University and was later hired in a tenure-track position. He was promoted to full professor in 1983.
Nicholls, who will hold a faculty appointment at UConn as a full professor in the math department, specializes in a branch of pure math that has to do with the theory of functions. He is author of The Ergodic Theory of Discrete Groups (Cambridge University Press, 1989) and co-author of Mathematical Thinking in a Quantitative World (Kendall Hunt Publishing Co., 1990). While on the faculty at Northern Illinois University, he received two consecutive three-year research grants from the National Science Foundation.
During his tenure in Colorado, Nicholls achieved many academic goals, such as revision of the first-year curriculum; development of an enrollment management plan; restructuring of the graduate school and the division of continuing education; and development of K-12 outreach activities.
He also hired a director of assessment to measure student learning outcomes; took steps to improve diversity among faculty, staff, and students; and worked to increase Colorado State University's research profile.
"Peter Nicholls' tenure at Colorado State University has made a real difference to the institution," said Colorado State President Larry Edward Penley in a press release. "He has exercised responsible and steady leadership in challenging times."
Tony Frank, senior vice president for research and information technology at Colorado State, says, "Peter Nicholls brings a very calming, steadying influence to discussions. He has an immensely thoughtful, deliberate approach to tough issues. He doesn't jump to conclusions, but gathers information, weighs all sides of an issue, reflects, and pulls in other people. His response is always well reasoned and well explained."
Frank adds that Nicholls has held a number of open forums for faculty groups at Coloado State, as well as working with formal groups such as the Faculty Council and the Council of Deans.
In addition to his administrative responsibilities, Nicholls taught a freshman seminar at Colorado State. He hopes to teach at UConn, too, although not during his first year.
"Teaching helps keep you connected," he says. "Seeing students for at least a few hours a week helps reinforce what the university is all about."
Debra Kendall, Board of Trustees Distinguished Professor of Molecular and Cell Biology and a member of the search committee, says of Nicholls, "He struck me as being a very thoughtful educator, someone who himself has been a faculty member yet now has extensive administrative experience. I look to him as somebody who can help connect our administration with our students and faculty."
Kevin Fahey, associate director for programs in the Department of Campus Activities, another member of the search committee, says Nicholls impressed him as "a very sincere, very intelligent, very caring person."
Fahey, who is also the president of UCPEA, UConn's professional employees' union, says he believes Nicholls appreciates the role unions play at the University. "I think he's somebody that's going to be good to work with," Fahey says.
Jenilee Swanson, an undergraduate who works in the Provost's Office at Colorado State, says Nicholls is very approachable. "He's out on campus a lot," she says. "You see him walking to and from the Student Center and he'll stop and say hello." She says he has addressed a number of issues that relate to students, including alcohol use on campus. "He's been very involved and concerned," she says.
Nicholls is visiting UConn this week to meet with the deans, the math faculty, and other key members of the University community, and to look for a house close to campus.
He and his wife, Trudy, have three adult children. In his spare time, he enjoys hiking and playing golf.
Nicholls replaces Fred Maryanski, who has been interim provost since June, when Provost John D. Petersen left to become president of the University of Tennessee. Maryanski leaves to become president of Nevada State College later this month. During the month of February, day-to-day administrative issues will be handled by Suman Singha, vice provost for academic affairs, and Ronald Taylor, senior vice provost for multicultural and international affairs.