1924 A Memorable Year For
Connecticut Football Team
By Mark J. Roy
[ Index to UConn History ]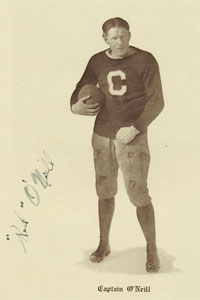 Photo from University Archives
For Connecticut football fans, the 1924 season must have been the equivalent of today's fans seeing the Huskies going to their first-ever bowl game.
That year, the football team of what was then known as Connecticut Agricultural College had its first – and so far, only – undefeated season.
The team, coached by Sumner Dole, also won the New England Conference Championship.
And to top it all, the freshman football team also posted its first undefeated season at 7-0.
The New York Times said the varsity team was among the best in the nation in 1924 – giving up only 13 points all season and only three in their last seven games.
The annual football media guide stated, in a historical timeline, "This squad is down in the annals as one of the school's finest, finishing 6-0-2 and winning the New England Conference Championship."
And the 1925 Nutmeg yearbook described some of the players in hyperbolic terms: "Old rivals and new rivals alike fell before the impregnable defence [sic] and the flashy backs of our Alma Mater's eleven," according to the yearbook. Captain O'Neill … was a mountain of defence [sic] in the backfield. Moreland, Reeves, Schofield, Baylock, Swem, and Filmer were the nightmares of our appointments in the backfield, while the line positions were held by Eyre, Bitgood, Nanfeldt, Eddy, Brink, Finnemann, and McAlister.
Only a few of the varsity players' names are familiar now. Wallace "Wally" Moreland was an assistant to UConn presidents in the 1960's and 1970's; and team captain Martin "Red" O'Neill, the school's first All-American candidate, is memorialized through an annual award to a UConn athlete.
Legend has it that O'Neill began his career in 1922. With the team in need of a replacement for an injured player during a game against Springfield College, O'Neill was spotted in the stands and called to join the game. "He threw on a uniform and stepped into the line-up, where he would remain for three seasons," says the media guide.
But legends are not always borne out by other evidence. O'Neill's yearbook entry, published in 1925, says he was on the team for four years – not three.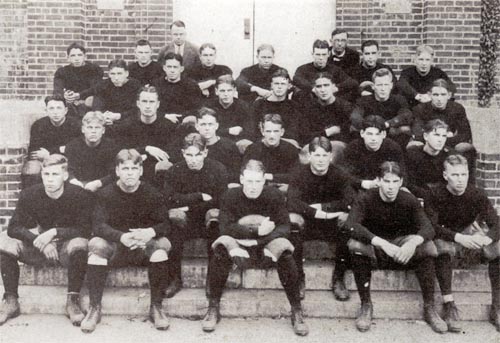 Connecticut Agricultural College's undefeated 1924 squad. Captain"Red"O'Neill is at front, center holding a football. Behind him is Wallace Moreland, later an assistant to UConn presidents.